TORRES COMMUNITY SHELTER RECEIVES $5,000 FROM GOLDEN STATE FARM CREDIT AND COBANK
The contribution will help cover the costs associates with providing emergency housing, food and aid to roughly 16- individuals that receive nightly services, as well as 18 families with 40 children who currently stays at the Torres Shelter on an ongoing basis.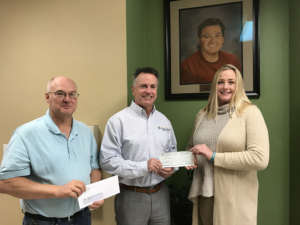 Chico (11-28-17) – Torres Community Shelter, a local non-profit serving displaced men, women, and children, has received a $5,000 donation from Golden State Farm Credit and CoBank, a cooperative bank serving vital industries throughout rural America.
Golden State Farm Credit provides dependable financing solutions for people involved in agriculture throughout Northern and Central California. Golden State Farm Credit's branches, located in the North State, assists many local non-profit organizations by providing financial contributions, volunteer support, scholarships, and technical expertise.
"Golden State Farm Credit is deeply rooted in our communities and committed to helping agriculturalist and non-profit organizations," stated Cheri McKinzie, Golden State Farm Credit's Director of Marketing and Outreach. "We believe that a healthy agricultural economy and strong ties to the community are good for rural California. The Torres Community Shelter's effort to help local homeless men, women, and families get back on their feet matches Golden State Farm Credit's belief that lending a hand to one person benefits everyone and makes for a richer environment in the neighborhoods where we live and work."
"The staff here at the Torres Community Shelter believes in moving people forward." Joy Amaro, Executive Director, Torres Community Shelter. "We are so happy to have received this donation as it will help augment our supportive services to help our guests become stable, and move forward into permanent housing."
The Torres Community Shelter's Community Foundation donation was matched by CoBank through its Sharing Success program. Sharing Success was established in 2012 to celebrate the International Year of the Cooperative. Since the program's inception, CoBank and its customers have together provided more than $25 million in support to charitable organizations across the nation.
"Sharing Success has had a broader and deeper impact than we ever imagined," said Tom Halverson, CoBank's president & chief executive officer. "We are delighted with the growing participation in the program by our customers, and deeply grateful to them for their assistance in identifying worthy charitable causes deserving of our support. We look forward to partnering with our customers once again this year and to sharing our success, in the best cooperative tradition."
 About Golden State Farm Credit
Golden State Farm Credit is a premier employer and borrower-owned cooperative, dedicated to providing reliable credit and financial services to rural agricultural communities located in Northern and Central California. Golden State Farm Credit is focused on helping agriculturalist reach their goals with mortgage & commercial loans, competitive interest rates, equipment leasing, appraisal services, and a special lending program for Tomorrow's Farmers.
Find out more about Golden State Farm Credit at www.goldenstatefarmcredit.com or call 800.834.8698.
About CoBank
CoBank is a $126 billion cooperative bank serving vital industries across rural America. The bank provides loans, leases, export financing and other financial services to agribusinesses and rural power, water and communications providers in all 50 states. The bank also provides wholesale loans and other financial services to affiliated Farm Credit associations serving more than 70,000 farmers, ranchers and other rural borrowers in 23 states around the country. CoBank is a member of the Farm Credit System, a nationwide network of banks and retail lending associations chartered to support the borrowing needs of U.S. agriculture, rural infrastructure and rural communities. Headquartered outside Denver, Colorado, CoBank serves customers from regional banking centers across the U.S. and also maintains an international representative office in Singapore.
For more information about CoBank, visit the bank's web site at www.cobank.com.
Pictured Above:  Golden State Farm Credit presenting their donation to the Torres Community Shelter. Pictured left to right: Bill Slack (Torres' Shelter Supervisor, Tod Kimmelshue (Golden State Farm Credit's Relationship Manager), Joy Amaro (Torres' Executive Director).