Farm Credit sponsorships help send California teams to national competitions
After a two-year COVID-induced pause, 4-H animal judging returned this year, and if the state program coordinator has anything to say about it, the program will be bigger and better than ever next year.
Laurie L. Fringer, the 4-H community education specialist for U.C. Cooperative Extension in Madera, was recently asked by state 4-H leaders to take over as their animal science coordinator. She said the 4-H members were really excited that the program resumed this year.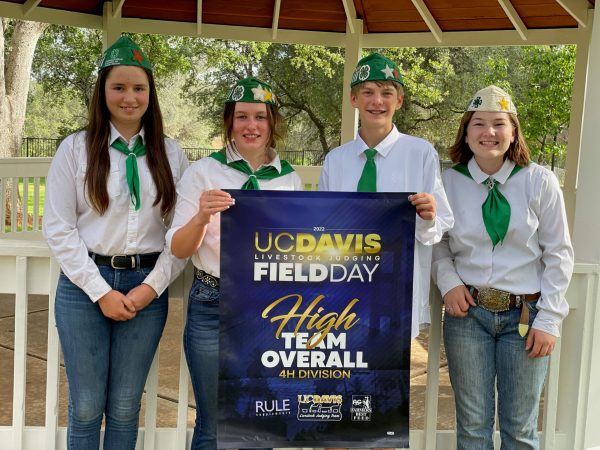 "4-H members are excited to actually be out and doing things and attending activities and events. They're at the fairs and activities and going to in-person state leadership programs instead of having to use Zoom. They're excited to have in-person contact again," Fringer said.
"We learn by doing, so when COVID-19 prevented us from meeting in person, it really threw 4-H members a curve ball. We had to revamp a lot of our programming, and of course had to deal with the schools trying to do the same thing."
Fringer said the state 4-H program is working to get contests in other fields up and running in the 2023 program year. She noted that there was a poultry team competition this year and the champion team will be competing in the national Avian Quiz Bowl in November.
Keith Hesterberg, President and CEO of Fresno Madera Farm Credit, said everyone at Farm Credit is excited that the judging competitions have resumed.
"Farm Credit has been sponsoring California 4-H for more than 20 years," Hesterberg said. "Our sponsorships help pay for teams to compete in national events, which is such a great opportunity for these hard-working young people. We're so pleased that the competitions have been resumed and look forward to continuing our support."
Besides Fresno Madera, participating Farm Credit institutions supporting 4-H are American AgCredit, CoBank, Colusa-Glenn Farm Credit and Farm Credit West. The organizations are part of the nationwide Farm Credit System – the largest provider of credit to U.S. agriculture.
Mark Littlefield, President and CEO of Farm Credit West, said it's vital to support organizations like 4-H because they represent the future of farming in the Golden State.
"4-H has expanded its reach into citizenship, healthy living and STEM, but agriculture remains a core area," Littlefield said. "Many of the members focusing on livestock, poultry, and plant science will put their skills to work in the future to expand and improve farming practices, and we are pleased to be able to help support its mission."
Fringer said Farm Credit's support allows 4-H youth who may not have been able to attend otherwise, participate in state and national-level competitions that showcase their leadership skills, public speaking skills, critical thinking skills and their ability to defend/justify a decision based on the information given.
She said 4-H is working to expand the number of contests 4-H students can participate in so they have exposure to developing skills at the national level and engage in deeper learning opportunities to support their development. The more opportunities created for California 4-H members, the better prepared they'll be for securing college and career opportunities in the future.
"My goal is to have regional events prior to state contests to build on," Fringer said. "If we're going to send a team to represent California to nationals, I want them to have the mindset that they are going to do their best. For that to happen, they need experience."
To that end, she's drawing on her long involvement with FFA – her daughters were both active in that organization from a young age – to involve 4-H members in FFA judging contests early in the year, prior to the big statewide Agricultural and Environmental Sciences Field Day at U.C. Davis in early March.
Fringer and her enthusiastic committee members are also working with four-year and community colleges to allow 4-H members to participate in fall judging competitions. They are also promoting these contests in different parts of the state, in the south San Joaquin Valley, Southern California and the Central Coast for now.
"Our contests are open to everyone statewide, but it can be hard for someone in Imperial County to come up to Chico State for animal judging. We are trying to get kids from all over the state participating," she said.
As a veteran FFA parent, Fringer said the competitions not only provide invaluable life lessons for students, they also are great networking opportunities.
"Besides all the work raising the animals, students get speaking skills because after the judging, they have to defend their placing – give a set of reasons why they placed where they did," she said.
Students are graded on such things as the animal's market-readiness or, if raised for breeding, their health and structure to give an idea of what kind of offspring they will produce.
And it's a lifestyle as well.
"Members will tell you they are in the barns and pens before school and again at night after sports and dinner. It's a lifestyle and they love it. With my girls, some of their best friends are other competitors from all over the state or even other states that they met at contests at the college level. I don't think you get that with any other type of contest," she said.
For 2023, Fringer said they expect to have horse judging, hippology, the equine speaking contest, dairy cattle and poultry judging, the Avian Quiz Bowl and livestock judging events to qualify for national 4-H competitions. They are working to revive the Livestock Quiz Bowl as well.
###
About Farm Credit: 
American AgCredit, CoBank, Colusa-Glenn Farm Credit, Farm Credit West and Fresno Madera Farm Credit are cooperatively owned lending institutions providing agriculture and rural communities with a dependable source of credit. For more than 100 years, the Farm Credit System has specialized in financing farmers, ranchers, farmer-owned cooperatives, rural utilities and agribusinesses. Farm Credit offers a broad range of loan products and financial services, including long-term real estate loans, operating lines of credit, equipment and facility loans, cash management and appraisal and leasing services…everything a "growing" business needs. For more information, visit www.farmcreditalliance.com
About the California 4-H Program:
The University of California 4-H Youth Development Program promotes hands-on, experiential learning for all youth ages 5-19. We provide meaningful opportunities for youth and adults to work together to create sustainable community change in the areas of Civic Engagement, Leadership, Healthy Living and STEM (Science, Technology, Engineering and Math). Our 4-H programs are delivered locally through the county University of California Cooperative Extension offices, where youth participate in 4-H through clubs, schools, military clubs, camps and more. Each year, approximately 100,000 youth and over 10,000 volunteers participate in the California 4-H Youth Development Program.