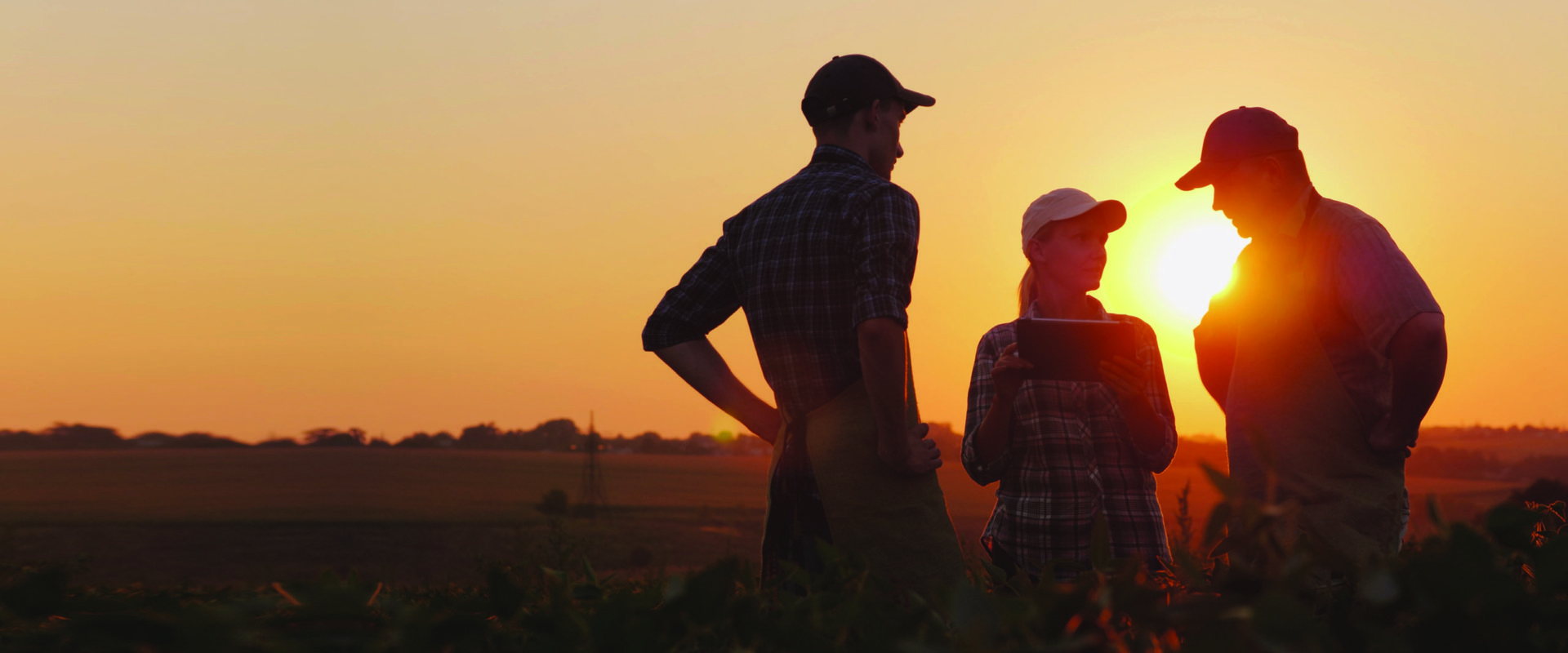 See all connections
Farm Credit helps give veterans what they love — free tacos
Fresno State's Student Veteran Organization sees strong turnout for annual veterans' tailgate Veterans love tacos. At least veterans at...
FARM CREDIT PROVIDED NEARLY $900,000 TO CALIFORNIA NON-PROFITS IN 2021
Leading Lender to California agriculture focused heavily on diversity, equity and inclusion Farm Credit organizations serving California's farmers and...
New FFA Program helps students make the leap into college
Two-day Change Makers Summit, with support from Farm Credit, opens eyes to the wide range of ag-related career pathways....
New Sacramento museum educates residents about farms' water needs
Farm Credit helps fund three exhibits on Museum of Science and Curiosity that demonstrate why farms need water and...
Students learn about commodities grown almost exclusively in the Golden State
Funded in part by Farm Credit, the Foundation for Agriculture in the Classroom educated 16,000 students about "the 99%...
Want to explore the wide variety of California wines? Come to Oakland on August 21
Family Winemakers of California to host major tasting event, sponsored in part by Farm Credit When you're a small,...
New Explorer Course gives aspiring farmers a quick introduction to what they can expect
Farm Credit grant helps Center for Land-Based Learning launch new program to complement its existing Beginning Farmer Training course...
Despite pandemic, Farm Credit continues to educate Congress about farm needs
Customers and staff discuss PPP, loan deferrals and infrastructure needs; set stage for in-person 'farmers market' in D.C. this...
Farmer-Veteran Grant Helps Marine Transition into Beekeeping
Farm Credit support helps veterans like Jesus Toro build new lives in agriculture Jesus Toro is a man...
California FarmLink Helps People of Color Become Successful Farmers
Farm Credit supports group as part of its commitment to diversity in agriculture. Over the past seven years, former...
Lesser-known Wines Deserve Some Love Too
P. S. I Love You promotes Petite Sirah with help from ongoing Farm Credit support. The wine industry is...
Dry Weather Harms California Farmers and Reinforces Need for Advocacy
Farm Credit has donated $100,000 to help the California Water Alliance work for solutions Barring an unlikely April miracle...
AgSafe Marking 10 Years of Training Farmers, Supervisors and Farm Workers
Farm Credit continues to support group's worker safety and HR training – and now COVID as well In agriculture...
Women's Group Effectively Speaks on Behalf of the Busy Farmer
Since 1975, California Women for Agriculture (CWA) has educated and advocated about the importance of farming.  Farm Credit continues...
Farm Credit Provided Over $1 Million to California Non-Profits in 2020
In a challenging year, leading ag lender awarded grants to over 100 groups to support agriculture in the Golden...
DISABLED AIR FORCE VETERAN CAN MANAGE LIVESTOCK THANKS TO FARM CREDIT GRANT
      Farmer Veteran program provides new farmer with solar-powered portable fencing system. After leaving the Air Force...
FARM CREDIT ESTABLISHES ENDOWMENT FUND AT CAL POLY SAN LUIS OBISPO
$255,000 donation will provide resources for student research projects related to agribusiness Agribusiness students at Cal Poly San...
CoBank Commits $200,000 to Support Hurricane Laura Relief Efforts
DENVER (September 8, 2020) — CoBank, a cooperative bank serving agribusinesses, rural infrastructure providers and Farm Credit associations throughout...
Farm Credit, Dairy Industry Partner to Help Expand Farm to Family Program
Farm Credit provides seed money for food banks; Dairy Farmers of America, Hilmar Cheese donation 37,000 pounds of cheese....
FARM CREDIT URGES SUPPORT FOR FARMS PROGRAM ON BIG DAY OF GIVING
Center for Land-Based Learning program brings youth into agricultural careers For more than a quarter-century, the Center for...
CoBANK COMMITS $1.4 MILLION TO COVID-19 RELIEF EFFORTS
DENVER (April 3, 2020) – CoBank, a cooperative bank serving agribusinesses, rural infrastructure providers and Farm Credit associations throughout the...
FARM CREDIT WEST DISTRIBUTES $120,000 TO FOOD BANKS IN CALIFORNIA AND ARIZONA
Rocklin, CA. — April 3, 2020 – Farm Credit West, ACA, one of the nation's largest agricultural lending cooperatives,...
FARM CREDIT SUPPORTS FARMS LARGE AND SMALL
While many people think that large, expansive farming operations are the norm in California, the opposite is actually true....
FARM CREDIT SUPPORTS THE WEST'S LARGEST ORGANIC FARMING CONFERENCE
40th EcoFarm Conference educated and inspired 1,600 people about sustainable farming The 40th EcoFarm Conference – the oldest...
FARM CREDIT CONTINUES SPONSORSHIP OF CALIFORNIA LEOPOLD CONSERVATION AWARDS
Farm Credit joins in saluting Rominger Brothers Farms, the winner of this year's California Leopold Conservation Award. Farm Credit...
FARM CREDIT AGAIN SPONSORS DAIRY SUSTAINABILITY SUMMIT
More than 600 farmers, policy makers to learn about latest developments to 'green' industry California's dairy industry is...
FARM CREDIT HELPS SEND CALIFORNIA STUDENTS TO NATIONAL 4-H COMPETITIONS
Competition is a big part of the 4-H program. Teams compete in such disciplines as dairy, poultry, livestock and...
FARM CREDIT HONORED FOR ITS SUPPORT OF FFA
The Farm Credit Alliance was recently presented with FFA's Distinguished Service Citation for its longstanding contributions to FFA and...
FARM CREDIT TO SPONSOR LATINO FARMER CONFERENCE FOR FIFTH STRAIGHT YEAR
Spanish language conference in Tulare to educate farmworkers wanting to become farmers Latinos have been the largest ethnic group...
Organic Farmers Foundation works to Promote a new Generation of Growers
Once a niche product, organic farming is the fastest-growing sector of the U.S. food industry. In fact, organic food...
Farm Credit Helping to Save Prime Farmland Forever
Lending group sponsors California Farmland Trust, which has protected 16,170 acres to date The California Farmland Trust...
Forest Foundation Continues Talking about Trees to California Students
Farm Credit Sponsorship to Help Expand Program, Reach Out to Urban Areas California's forests have more kinds of native...
Farm Credit Helps Smaller Wineries Get Noticed by Potential Customers
Group Sponsors Family Winemakers of California Tasting Events in Northern, Southern California For a small family-owned winery, it...
California Rodeo provides thrills, reminds attendees of California's agricultural roots
Farm Credit proud to once again sponsor annual event More than 50,000 fans from around the West –...
Western Growers Center Promotes Innovation and Technology to Meet the Needs of Agriculture
Farm Credit helps support Salinas-based Center to keep farming healthy and vibrant
Farm Credit Helps Dairy Group Continue Training the Leaders of Tomorrow
Participants from major dairy regions included in this year's Dairy Leaders Program
Farm Credit Support Helps Center for Land-Based Learning Begin Construction of New Campus
For 25 years, the Center for Land-Based Learning has provided hands-on education and workforce development opportunities to high school-aged...
Farm Credit Feeds 2,000 FFA Students at State Judging Finals
Volunteers prepare a ton of tri-tip and all the fixings at 91st annual State Finals at Cal Poly
Farm Credit Donates Grizzlies Championship Ring to Benefit Valley Children's Healthcare Auction
Each year, Madera-based Valley Children's Healthcare holds several events to raise money to help Valley families receive top-quality medical...
FARM CREDIT PROUD TO SUPPORT AG COUNCIL AS IT CELEBRATES 100TH ANNIVERSARY
In 1919, the Agricultural Council of California was founded, as its original charter states, "for the purpose of drafting...
Farm Credit Helps Students and Teachers 'Learn About Ag'
Students in urban, rural areas alike benefit from Foundation's educational efforts
FARM CREDIT SUPPORTS ANNUAL CENTRAL VALLEY, NORTH STATE COMMON THREADS AWARDS
Women's contributions to ag make up Common Threads Farm Credit supports annual Central Valley, North State awards soon to...
FARM CREDIT GRANT HELPS CENTRAL CALIFORNIA FOOD BANK PROVIDE MORE FRESH PRODUCE
Central California Food Bank moved into a new 145,000 square foot facility in Fresno last summer that nearly tripled...
Farm One of Just 63 in State in Homegrown by Heroes Program
Farmer Veteran Coalition, Farm Credit to honor returning veterans-turned-farmers at D.C. event
Farm Credit Dairy Center to Again be Hub of World Ag Expo
More than 100,000 expected to attend annual event in Tulare from February 12 - 14, 2019
Farm Credit Helps FFA Students Achieve Ag Career Goals
Since 1928, the California FFA has been encouraging high school students to pursue a wide range of careers related...
Farm Credit Helps California Adults, Students Learn More About Agriculture Careers
Adults and high school students interested in careers in agriculture will have help reaching their goals thanks to a...
Fresno State Program Mentors High School Students about Careers in Ag
Farm Credit Provides Bulk of funding for Multicultural Scholars in Ag Program
Farm Credit helps Grizzlies provide fireworks and the Wild About Reading Program
For fifth straight year, Farm Credit helps Grizzlies provide fireworks and the Wild About Reading program Fans of the...
State-of-the-Art Science Museum to educate Californians on Farm Water Issues
As many as 300,000 people a year will learn how California farmers lead the world in water efficiency once...
CoBank Commits More than $350,000 to Hurricane Harvey and Irma Relief Efforts
DENVER (September 12, 2017) – CoBank, a cooperative bank serving agribusinesses, rural infrastructure providers and Farm Credit associations throughout the United...
Farm Credit Helps Cultivate California Set the Story Straight About Farmers and Ranchers
Each year, California produces more food than any other state. But while Californians instinctively like and trust farmers and...
Farm Credit awarded FFA Distinguished Service Award
The Future Farmers of America (FFA) Executive Committee of the California Association FFA recently awarded Farm Credit with their...
Spreading the Word about the Importance of California Agriculture
Farm Credit supports fundraiser for "My Job Depends on Ag" campaign
Farm Bureau President Shows Value of Young Farmer/Rancher Program
First-Generation farmer learned the ropes thanks in part to Farm Credit support
Multicultural Scholars In Agriculture
American AgCredit, Farm Credit West, Fresno Madera Farm Credit and CoBank have teamed up to support the Multicultural Scholars...
California Farm Academy
Farm Credit West, American AgCredit and CoBank are sponsoring four students with scholarships to attend the California Farm Academy....
Small and Ethnic Farmer Market Tour Project
A new Small and Ethnic Farmer Market Tour Project which introduces small farmers to conventional distributors interested in offering...

In the community