Race to Slow the Pace on September 17, in Lodi benefits California Farmland Trust
Every year, about 50,000 acres of agricultural land in California is lost to other uses, often urban development. To preserve prime farmland for agriculture, the California Farmland Trust has been working with willing farmers for nearly 20 years to place their development rights into trusts that ensure that farms remain farms – forever.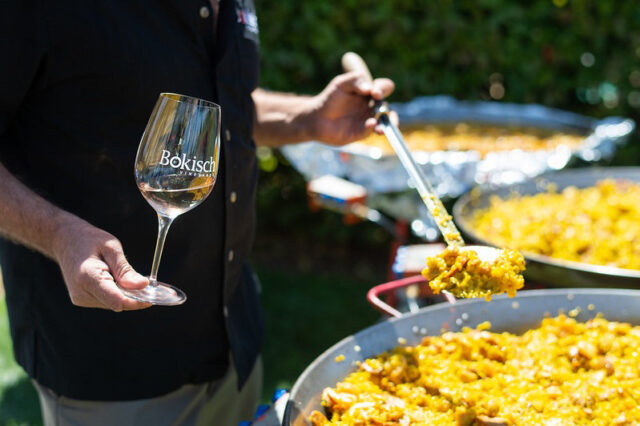 Since its formation in 2004 after three regional land trusts banded together to protect farmland through agricultural conservation easements, the Farmland Trust has protected 17,606 acres on 81 farms in six Central Valley counties. When farmers agree to have easements placed on their properties, they sell or donate the right to develop the land to the Farmland Trust, which cannot exercise that right.
Most of the funding to buy those development rights comes from federal and state agricultural protection programs, along with sponsorships by philanthropical organizations including Farm Credit. Right now, everyone has a chance to help preserve farmland – and get a nice glass of wine and a bowl of paella as well.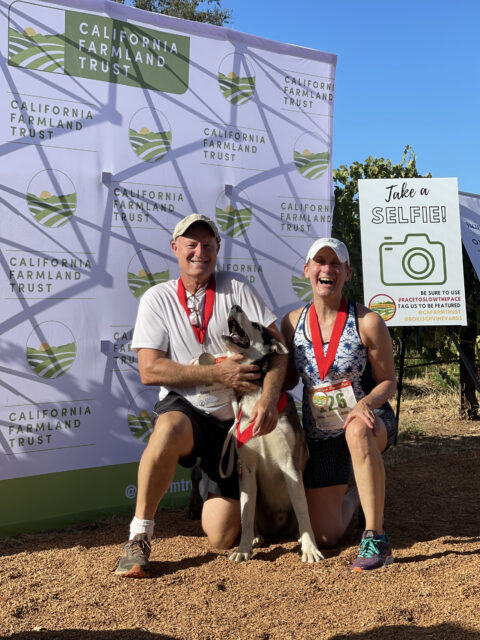 The third annual Race to Slow the Pace 5K/10K fundraiser will take place on Sunday, September 17, at Bokisch Vineyards in Lodi. Presented in partnership with the John and Jeani Ferrari Family Foundation, the walk/run courses will wind through the vineyards and end underneath Bokisch's stunning oak tree picnic area, where participants can enjoy a glass of wine and a bowl of homemade paella.
Charlotte Mitchell, the Farmland Trust's executive director, said the event is family-friendly, with even dogs and strollers welcome.
"The name is a play off of racing to slow the pace of urbanization of farmland. It's a way to connect consumers with the farmlands we're protecting, and to make sure that we still have farmland in the future on which to raise food and fiber," Mitchell said.
"It's important that we raise our food in the U.S. instead of relying on other countries. That's why we're working to protect prime farmland, while allowing cities to expand services and provide housing."
As part of its efforts to support nonprofits making a difference in California agriculture, three Farm Credit organizations serving the state's farmers and ranchers – AgWest Farm Credit, American AgCredit and CoBank – have sponsored the Farmland Trust for several years. The organizations are part of the nationwide Farm Credit System, the largest provider of credit to U.S. agriculture.
Kevin Ralph, California state president for AgWest Farm Credit, said preserving the state's farmland is critically important.
"The Central Valley makes up just 1% of the nation's farmland, but produces 50% of all the produce, fruits and vegetables consumed in the U.S.," Ralph said. "Farm Credit believes that supporting the Farmland Trust is an important way to ensure that our farmland remains farmland for generations to come, and we look forward to again being a part of the Race to Slow the Pace."
Jacob DeBoer, Senior Regional Marketing Manager with American AgCredit, agreed.
"Firmly rooted in American AgCredit's core values is an unwavering commitment to the communities where we work and live," DeBoer said. "Supporting organizations like California Farmland Trust, who share the same passion for the sustainability and viability of agriculture as we do, is vital to the continued success of agriculture and food security in the state of California."
Creating the easement is completely voluntary, but once one is in place it is permanent. Mitchell noted that each easement is different, tailored to the desires of the landowner, the interests of the Farmland Trust and the unique characteristics of the land.
Among benefits for farmers is that placing an easement on the land ensures their farm will remain a farm forever. It's a way to keep the farms intact through inheritances or other ownership changes and it can provide an infusion of cash for farming operations, debt reduction or other uses.
The 81 farms currently protected from development are located in Sacramento, San Joaquin, Contra Costa, Stanislaus, Merced and Madera counties, but Mitchell said the Farmland Trust is currently working to protect farms in Fresno County as well.
Mitchell said while runners are encouraged to run their race at the winery, virtual runs are also possible where runners pick the time and location that works for them. The regular registration fee is $65 and race day fees are $75. Virtual runners can participate for $50. To register or for more information, visit https://bit.ly/3OzW2xu.
###
About Farm Credit:
AgWest Farm Credit, American AgCredit and CoBank are cooperatively owned lending institutions providing agriculture and rural communities with a dependable source of credit. For more than 100 years, the Farm Credit System has specialized in financing farmers, ranchers, farmer-owned cooperatives, rural utilities and agribusinesses. Farm Credit offers a broad range of loan products and financial services, including long-term real estate loans, operating lines of credit, equipment and facility loans, cash management and appraisal and leasing services…everything a "growing" business needs. For a link to this article and for more information, visit www.farmcreditalliance.com
About the California Farmland Trust:
California Farmland Trust is a California nonprofit 501(c)(3). Our mission is to help farmers protect the best farmland in the world. To date, we have protected 17,606 acres of farmland on 81 farms. To learn more, visit us at www.cafarmtrust.org.