Farm Credit's support of conference is part of its $1 million commitment to young, beginning and small producers in 2022
Now in its 35th year, the Small Farm Conference will be held this year from February 26 to March 6. Organized each year since 2018 by the Community Alliance with Family Farmers (CAFF), this year's conference will once again be a hybrid event, said Evan Wiig, CAFF's director of membership and communications.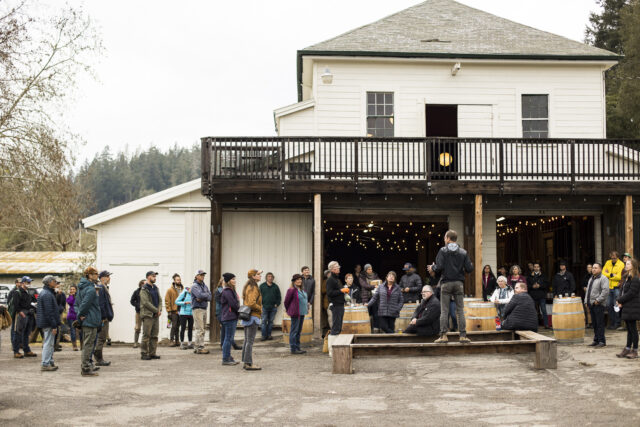 And depending on the reaction to this year's conference, CAFF may be sticking with that format in the future, he added.
"During the first year of COVID (in February 2021), we were 100% virtual," Wiig recalled. "For the second year (of COVID) we were still nervous about what to do so we started looking at the evaluations, anticipating to bring it back in person and that attendees wanted us to do that."
However, the evaluations showed that while there was support for an in-person event, there were also a lot of people who said it was great to have the conference so accessible. Wiig said it can be a challenge for small farmers to get away for a week, and the additional costs of child care, hotel and travel. So CAFF planned a virtual schedule featuring 50 online workshops, ending in 10 in-person gatherings around the state for attendees to get together with other attendees from their area. It turned out to be a popular format, so CAFF is trying it again this year.
"We want to maintain accessibility while keeping the soul of connecting with other humans. If this year is as successful as last year – and we have nearly 500 registrations so far – this might be the future of the conference," he said.
Jeana Hultquist with American AgCredit said Farm Credit sponsors many conferences and events each year because of how important they are to the present and future of California agriculture.
"As a farmer-owned cooperative, we understand the importance of supporting the next generation of agriculture. In 2022, we contributed over $1 million to support young, beginning and small producers as they grow and learn the complex and dynamic business of agriculture," Hultquist said. "We're thrilled to support organizations like CAFF who share the same passion for the sustainability and viability of agriculture as we do."
Besides American AgCredit, other Farm Credit organizations supporting the Small Farm Conference are AgWest Farm Credit, CoBank, Colusa-Glenn Farm Credit and Fresno Madera Farm Credit. The organizations are part of the nationwide Farm Credit System – the largest provider of credit to U.S. agriculture.
"We want to make sure small farms thrive," Wiig said. "Running a viable small farm operation is pretty tough – the odds are against you. We want to provide as much support as we can."
While CAFF doesn't have a definition of exactly what a small farm is, Wiig said most small farmers in California sell direct to consumers in one form or another, through farmers markets, farm stands, or direct to local restaurants. One thing in common is that they are all deeply involved in the day-to-day operations of their farm.
Each year, CAFF embarks on a listening tour of small farmers to determine their top issues to guide the organization's focus. This year, he said the top concerns were access to water, access to land, and access to infrastructure.
Water is a perennial problem for all farmers and ranchers, especially in California, but he said small farmers have some unique challenges.
"Small farmers who are surrounded by larger operations with deeper wells can see the water table start to drop. Their shallower wells are no longer sufficient, and they can't afford to compete with the larger organizations by drilling deeper," he noted.
Infrastructure is a particular problem because processors and distributors are consolidating – and larger operations are less likely to work with a small farm. For example, the only slaughterhouse in the North Bay announced in 2019 that it would no longer process animals for private rancher-owned labels. Many ranchers quit raising livestock for meat, while others had to truck their animals to the Central Valley or Eureka, up to 250 miles each way.
So ranchers eventually formed a co-op and purchased a $1.2 million mobile meat processing facility that began operations a year ago. Wiig said such cooperative measures are a growing trend as farmers and ranchers look for creative solutions.
Wiig said the conference could not be held without the support of Farm Credit and other sponsors.
"It's great seeing folks like Farm Credit stepping up and recognizing that their support is an investment in the future of agriculture and our food system. And in the long run, we think that investment has paid off. We now have thriving farmers markets and local food systems. We have small farm advisors through U.C. Extension. We have conversations around the impacts of climate change, and we think investments through sponsorships over the years has been an investment in what we see today."
Mark Littlefield, President and CEO of AgWest Farm Credit, said the Farm Credit System prioritizes financing small farming and ranching operations – in addition to larger operations – as they are critical to the future of farming.
"We understand that reliable and consistent access to capital is a requirement for small farmers and ranchers to succeed," Littlefield said. "When coupled with the support of an active community where these dedicated individuals can network, receive advice and formalized training – they thrive. It's for this reason Farm Credit is proud to sponsor the Small Farm Conference. While the challenges for this community may be significant, access to resources specifically built with them in mind will allow these farms to grow and continue contributing to their local communities."
###
About Farm Credit: 
AgWest Farm Credit, American AgCredit, CoBank, Colusa-Glenn Farm Credit and Fresno Madera Farm Credit are cooperatively owned lending institutions providing agriculture and rural communities with a dependable source of credit. For more than 100 years, the Farm Credit System has specialized in financing farmers, ranchers, farmer-owned cooperatives, rural utilities and agribusinesses. Farm Credit offers a broad range of loan products and financial services, including long-term real estate loans, operating lines of credit, equipment and facility loans, cash management and appraisal and leasing services…everything a "growing" business needs. For more information, visit www.farmcreditalliance.com
 About CAFF:
The Community Alliance with Family Farmers builds sustainable food and farming systems through policy advocacy and on-the-ground programs that create more resilient family farms, communities and ecosystems. The California Small Farm Conference convenes farmers and ag advocates to share resources, trade best practices, learn and collectively advocate for family farms in their community. For more information, visit https://caff.org.