Farm Credit supports novel program to help protect and preserve farms and ranches
According to the USDA's Census of Agriculture, fully 96% of the nation's 2.2 million farms are family-owned and operated. But as the baby boom generation continues to age, an estimated 70% of U.S. farmland will change hands in the next 20 years – and the USDA warns that if a farm or ranch family has not adequately planned for succession, it is likely to go out of business, consolidate into larger operations with neighboring farms, or be converted to non-farm uses.
To help farming families plan for a successful succession, California FarmLink – a certified nonprofit Community Development Financial Institution – recently launched The Regenerator: A Year of Farm Succession Planning. The program is designed to walk families through all the issues that can arise to help ensure that succession goes smoothly. The next cohort of family farmers and ranchers will begin work in November, said Liya Schwartzman, FarmLink's Senior Program Manager for their Equity and Conservation on Working Lands division.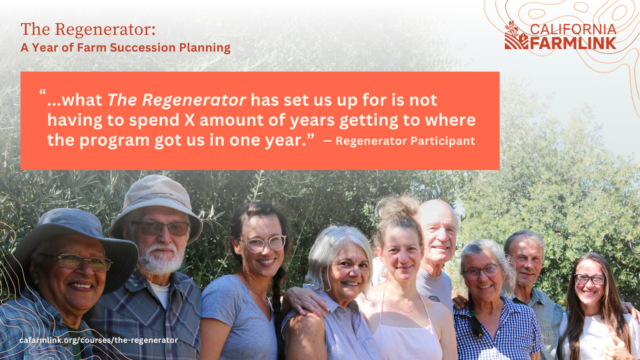 "FarmLink actually started out in 1999 with a focus on supporting retiring farmers to find someone to lease or take over their operations, but the work we were doing had its limitations. Short workshops weren't cutting it, and it's hard to maintain a trajectory when you're working with 20 families in different stages of planning," Schwartzman said.
"I thought there must be a better way, and after we studied programs across the country, we came up with a cohort model to bring people in who are in similar stages of being ready to seek assistance in transferring their land and their businesses to successors."
FarmLink launched The Regenerator as a small pilot program in the fall of 2021 with just three families involved, and all three completed the program and created executable plans. After reviewing and fine-tuning the program, the nonprofit is hoping for seven to 10 participants this year, with a vision of scaling up the program in future years.
FarmLink engages a team of professionals – including CPAs, estate-planning attorneys, appraisers, and transition specialists – to aid the families in crafting plans that fully meet their unique needs. The program also provides $1,600 to each participating group to work with these providers, using funds provided by a USDA educational grant.
Schwartzman said one of the first things that a family needs to do is determine if family members are interested in taking over and how that would occur.
"The majority of successors may be heirs, but there is a trend of the immediate heirs moving away from farming. Sometimes the family will have grandchildren who want to come back to the farm, but if nobody in the family is interested, retiring farmers will need to look outside the family. Often a farm manager could be a perfect successor," she said.
"But people should start sooner rather than later because it can take several years to find the right successor and complete the transition process."
As part of its efforts to support nonprofits making a difference in California agriculture, four Farm Credit organizations serving the state's farmers and ranchers – AgWest Farm Credit, American AgCredit, CoBank and Fresno Madera Farm Credit – have sponsored FarmLink since 2018. These organizations are part of the nationwide Farm Credit System, the largest provider of credit to U.S. agriculture.
Kevin Ralph, California State President for AgWest Farm Credit, said participating Farm Credit organizations are proud to support FarmLink's efforts to preserve family farms.
"This is a relationship-driven business and Farm Credit prides itself on being trusted advisers to our customers – really understanding our clients' business and educating them on their options," Ralph said. "FarmLink's novel program builds on that and will really help farming and ranch families properly manage their succession issues."
Regional Marketing Manager Jacob DeBoer with American AgCredit also noted that the evolution of agriculture is inevitable – and exciting. A sizable percentage of farms without family members who want to take over the operation is providing opportunities for new and up-and-coming farmers – especially women and Latinos – to purchase farm and ranch lands and create strong, viable operations.
"There are nearly six times more California farmers age 65+ than ones under 35," DeBoer said. "This succession tsunami will provide opportunities to expand the diversity of California agriculture, which will help ensure a prosperous future for farming and ranching in the Golden State."
Schwartzman said another key component of the program is working to build communications skills.
"Succession planning most often falls apart when retiring farmers, their heirs and successors, have a breakdown in communication. This can be a very emotional and very intense time. It means someone will no longer be with us when plans are executed. And also, it's the transfer of something the retiring generation has spent a lifetime building, so not preparing and educating people about effective communication skills and including a plan for mediation is to do a disservice and can be the downfall of the transition," she said.
But the biggest reason FarmLink is working to provide succession planning is the potential impact of so many farms changing hands.
"This will shape the food system for the following century. We need to put as many resources as we can behind preserving and growing these farm businesses that are about to go through these transitions," she said.
Applications are still being accepted for this year's program. For more information, visit https://www.californiafarmlink.org/courses/the-regenerator or contact Schwartzman at liya@cafarmlink.org
###
About Farm Credit:
AgWest Farm Credit, American AgCredit, CoBank and Fresno Madera Farm Credit are cooperatively owned lending institutions providing agriculture and rural communities with a dependable source of credit. For more than 100 years, the Farm Credit System has specialized in financing farmers, ranchers, farmer-owned cooperatives, rural utilities and agribusinesses. Farm Credit offers a broad range of loan products and financial services, including long-term real estate loans, operating lines of credit, equipment and facility loans, cash management and appraisal and leasing services…everything a "growing" business needs. For a link to this article and for more information, visit www.farmcreditalliance.com
About California FarmLink:
California FarmLink is a nonprofit Community Development Financial Institution investing in the prosperity and well-being of farmers, ranchers, and fishers who have limited access to financial resources. Founded in 1999, the organization works across California with a focus on serving communities of color and beginning farmers and ranchers. FarmLink partners with farmers, ranchers, professional advisors, impact investors, public agencies and other nonprofits to advance equity in California agriculture. Learn more at www.cafarmlink.org