Farm Credit remains a strong supporter of the 30-year-old Center for Land-Based Learning curriculum
Thirty years ago, a Yolo County walnut farmer named Craig McNamara thought it would be a good idea to invite city kids to a farm and educate them about where their food comes from. To that end, the Winters farmer helped found the FARMS Leadership Program, which today is a key component of the programs offered by the Center for Land-Based Learning (CLBL).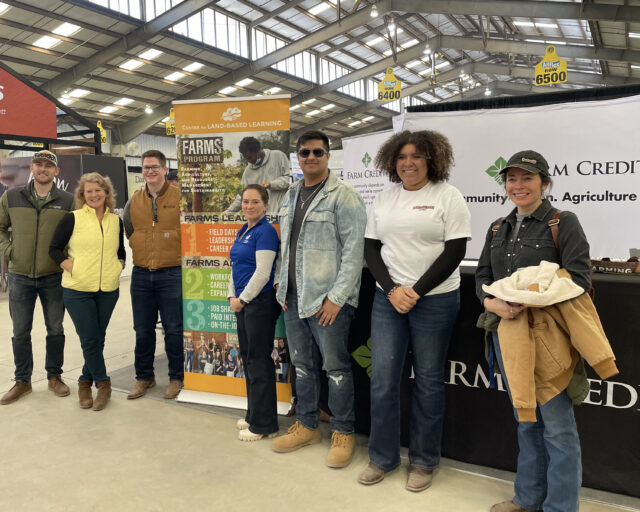 Leticia Hernandez, the alumni and internship manager for the program (which stands for Farming, Agriculture and Resource Management for Sustainability), said the program is designed to introduce, train and recruit about 200 high school students from major farming regions in the Central Valley, Northern California and the Central Coast each school year for college and career opportunities in agriculture and environmental sciences. The program's motto is "inspire, educate, cultivate."
However, the program has evolved over the years.
"Today, we focus on supporting the industry by teaching FARMS students professional development skills," Hernandez said. "We provide hands-on opportunities for students to practice their leadership skills while in the program. Students practice speaking publicly and working with new people almost every field day. We hold mock interviews and encourage and teach them how to be better professionals while introducing them to career possibilities."
Career paths for participants include obvious ones such as harvesting and packing, but also human resources, marketing, research and development, gene editing and breeding. The key component of the basic program is the monthly field days, which give students hands-on experience on a farm.
"Each session involves about five students per school along with their teacher. By bringing smaller groups, it allows students to participate in networking, working with all kinds of people, team building and leadership activities. But the most important part of the field day is to get them working with people on their jobs, learning about crops along the way," she said.
Promoting and preparing for the future of California agriculture is a top priority for Farm Credit associations operating throughout California, said Keith Hesterberg, President and CEO, Fresno Madera Farm Credit.
"Nurturing the next generation of farmers and ranchers is vitally important to ensure California's agricultural industry continues feeding the nation and the world, and CLBL does a tremendous job encouraging high school students to adults to consider careers in agriculture.
"Farm Credit is proud to be a strategic partner for CLBL and we look forward to continuing to work with them for many years to come." Hesterberg noted, adding that collectively, Farm Credit associations collaborate annually to prioritize giving to nonprofits active in California that encourage young people to consider careers in the field.
Farm Credit also strongly supports programs to increase diversity in the industry, said Kevin Ralph, California State President for AgWest Farm Credit.
"Farm Credit is committed to encouraging diversity and inclusion in the industry, and it's encouraging that 78% of the students in the FARMS Leadership Program are black, indigenous and people of color," Ralph said. "Encouraging young people from all backgrounds to consider the full range of career opportunities bodes well for the future of farming here in the Golden State."
Farm Credit associations AgWest Farm Credit, American AgCredit, CoBank and Fresno Madera Farm Credit are proud supporters of the FARMS program and the Center for Land-Based Learning. These organizations are part of the nationwide Farm Credit System – the largest provider of credit to U.S. agriculture.
In 2015, the program added a second-year option, FARMS Advanced, which provides no more than 40 first-year students with the opportunity to sharpen and develop their workforce skills through an additional six field days. The students work directly with their regional program coordinators in one-on-one mentorships and on small-group field days in smaller spaces like research labs and at companies that don't have facilities for larger groups. There, they talk with individual employees about their careers and participate in mock interviews with company HR staff that prepares them for possible internships and the workforce.
Beginning in 2017, the FARMS Program added a new top-level tier to the program. By providing internships in the agricultural or conservation workplace, the program provides a practical application of their educational studies. This opportunity is open to everyone who had completed the FARMS Advanced program who are interested in pursuing a career in agriculture or environmental sciences. Hernandez was brought on board last year to focus on placing these "alumni" into internships and jobs.
"Last year we started with five or so and we had five more this year. My job is to find placements and do matchmaking," she said. As an example, she pointed to a student who graduated from Cal Poly this year who was placed in an internship last summer, and this summer is starting a job as a junior ranch manager.
Besides providing career opportunities, she said the program encourages participants to give back to their communities with a community action project. Some work on environmental or agricultural projects, but others perform such activities as working in a soup kitchen, park cleanups and training elementary school students about how to care for animals.
"It's become a beautiful program that is inspiring for students and everyone watching them grow," she said.
###
About Farm Credit: 
AgWest Farm Credit, American AgCredit, CoBank and Fresno Madera Farm Credit are cooperatively owned lending institutions providing agriculture and rural communities with a dependable source of credit. For more than 100 years, the Farm Credit System has specialized in financing farmers, ranchers, farmer-owned cooperatives, rural utilities and agribusinesses. Farm Credit offers a broad range of loan products and financial services, including long-term real estate loans, operating lines of credit, equipment and facility loans, cash management and appraisal and leasing services…everything a "growing" business needs. For more information, visit www.farmcreditalliance.com
About the Center for Land-Based Learning:
For the past 30 years, the FARMS Program has served diverse communities throughout California, from Red Bluff to Bakersfield, Vacaville to Monterey. Tens of thousands of high school youth, most with no previous access to these opportunities, have been introduced to careers in agriculture and environmental sciences. FARMS participants are provided with a multi-year, progressive approach to entering these industries. The experience begins with Tier 1, the FARMS Leadership Program, in which students engage in career exploration. In Tier 2, FARMS Advanced, students focus on workforce development and hands-on skills training in the field, and in Tier 3, students engage in job shadows and paid internships with partner organizations and companies throughout California.