Largest provider of credit also committed to long-term visibility of California's farms and ranches
Farm Credit is the largest provider of credit to U.S. agriculture, but its support goes much deeper than that. Farm Credit is also committed to the sustainability and long-term viability of agriculture and rural communities and strongly supports non-profits working to preserve and protect California agriculture.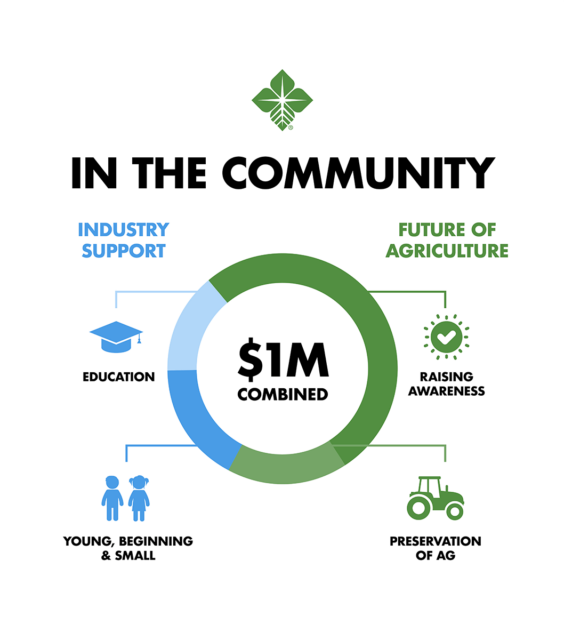 In 2022, the Farm Credit Alliance – AgWest Farm Credit, American Ag Credit, CoBank, Colusa-Glenn Farm Credit, Fresno Madera Farm Credit, Golden State Farm Credit and Yosemite Farm Credit – contributed nearly $1 million to nearly 100 agricultural organizations around the state.
The funding supports farming and ranching in four main areas – raising awareness of agriculture, preservation of agriculture, education and research, and support for young, beginning and small farmers.
"By providing funding to a wide range of non-profits working to promote farming and ranching in California, Farm Credit is making an investment in helping the industry thrive today and to ensure it can continue providing food for the nation and the world in the years to come," said Mark Littlefield, President and CEO of AgWest Farm Credit.
The lion's share – more than $480,000 – was directed to organizations that raise awareness through a variety of methods.
One beneficiary is Western United Dairies' educational and advocacy program. The organization's Dairy Leaders program educates up-and-coming dairy industry leaders about the state and federal legislative and regulatory process, how milk products are marketed and ways they can communicate effective messages about the dairy industry.
Another is the Family Winemakers of California. The group is a strong advocate for small family-owned wineries at the state Capitol, where it focuses on reforming post-Prohibition restrictions on selling directly to consumers. Farm Credit support also helps the group hold two large wine tastings a year to promote small family-owned wineries that can't afford large advertising budgets.
Farm Credit is also a strong supporter of groups seeking to preserve agriculture in the Golden State, donating over $150,000 to organizations involved in that cause. One recipient was Cultivate California, which educates policymakers and residents about the crucial link between water and their food supply and counters misinformation about farming's use of water. The Cultivate California program helps bolster the natural support people have for agriculture and farms and provides them with facts and information about the connection between their food and the water supply.
Education and research is another Farm Credit priority, receiving over $150,000 as well in 2022. The Foundation for Agriculture in the Classroom has been educating students around the state for 36 years that the food they eat doesn't just come from the supermarket. Its most recent program was highlighting the "99% club" – 16 commodities grown almost exclusively in California. A total of 16,000 students participated in the interactive program during the previous school year.
In addition, for more than a decade Farm Credit has supported the California Cattlemen's Association Livestock Memorial Research Fund, which played a major role in funding the development of a vaccine against a tick-borne disease – epizootic bovine abortion – that had wreaked havoc on the state's cattle industry for decades. The Research Fund is now helping fund research against another tick-borne disease – bovine anaplasmosis – that causes billions of dollars in losses worldwide.
Finally, Farm Credit continues to strongly support programs to nurture the next generation of farmers and ranchers to ensure the future of agriculture in California, donating over $125,000 to organizations such as FFA. By supporting FFA for more than 20 years, Farm Credit helped make numerous programs possible, including the new Change Makers Summit, which provides college-bound high school seniors with information about the many careers they can pursue in agriculture.
Farm Credit also supports aspiring farmers, such as by providing the Center for Land-Based Learning with funding to create a new six-week Explorer Course for people interested in farming but who don't have the time to participate in its seven-month Beginning Farmer Training program. A large percentage of participants aren't ready for a lengthy program but do want to know what steps they would need to take to become successful farmers. This is especially important because the average farmer is nearly 60 years old, so encouraging people with an interest in farming is vital.
"We know the importance of continuing to support, young, beginning, and small producers as they take the step to learn the complex and dynamic business of agriculture," said Jeana Hultquist, who runs the local community impact program for American AgCredit. "Farm Credit is committed to the prosperity of not only today's rural families, farms, and businesses, but also the next generation of agriculture."
###
About Farm Credit: 
AgWest Farm Credit, American AgCredit, CoBank, Colusa-Glenn Farm Credit, Fresno Madera Farm Credit, Golden State Farm Credit and Yosemite Farm Credit are cooperatively owned lending institutions providing agriculture and rural communities with a dependable source of credit. For more than 100 years, the Farm Credit System has specialized in financing farmers, ranchers, farmer-owned cooperatives, rural utilities and agribusinesses. Farm Credit offers a broad range of loan products and financial services, including long-term real estate loans, operating lines of credit, equipment and facility loans, cash management and appraisal and leasing services…everything a "growing" business needs. For more information, visit www.farmcreditalliance.com