$600,000 in Farm Credit donations over the years have helped FFA grow and provide vital leadership development for future ag leaders
Roberto Lopez, a senior at Oakdale High School in Stanislaus County, is a strong believer in the value of FFA. Lopez is the president of both the school's FFA Chapter and the organization's central region, encompassing the area between Yolo and Merced counties.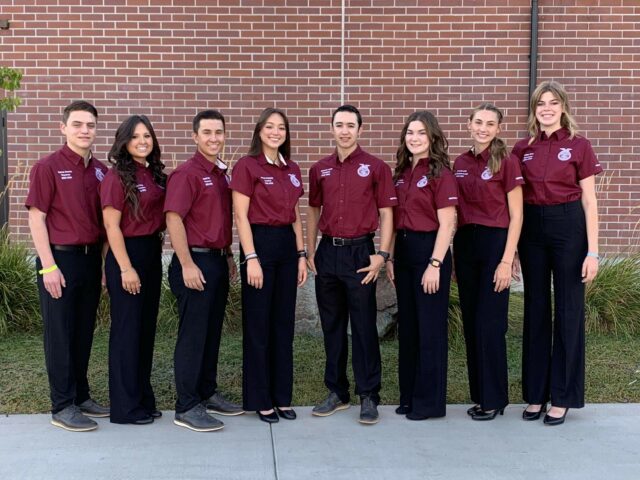 His drive is so strong that he hopes to take a gap year between high school and college and be elected next month to serve as one of six FFA statewide student officers, who will interact with business and industry leaders, thousands of FFA members and teachers, corporate sponsors, government and education officials, local FFA leaders, and the public.
The team will lead personal growth and leadership training conferences for FFA members throughout the state and help set policies that will guide the future of FFA in California and the next generation of leaders.
"I was always an individual who was quiet and kept to himself," Lopez recalls. "But my ag teachers all introduced the idea of how FFA can turn a student into a leader. That really sparked me. What better way to take my passion for ag than to be an advocate for industry?"
Lopez's ascent into leadership roles is representative of the growth of Latino membership in the California FFA. For decades after its inception in 1928, FFA – then the Future Farmers of America – was an all-male, all-white organization. During the 1960s, that began to change. Black members joined in 1965 when FFA merged with the segregated New Farmers of America, and women were first allowed to join in 1969.
But today, while 45% of members nationwide are female, nearly two-thirds of the membership is white.
California, however, is different. Twenty years ago, FFA membership in the Golden State was still roughly 60% white and 60% male. But according to FFA's 2021-22 Fact Sheet, 45% of members were Hispanic, 40% were white, 10% were of two or more races, and 2.5% each were Black and Asian. In addition, 73% of its 98,912 members were women. Although these changes are significant, FFA officials recognize that there is still work that needs to be done.
"FFA may not have radical changes, but change happens," said Katie Otto, executive director of development for the California FFA Foundation. "And that's not lost on our students and our leadership. We ask, are we providing opportunities for all students? Are we accessible? And how can we better meet kids where they're at?"
Mark Littlefield, President and CEO of AgWest Farm Credit, said FFA's growing diversity is crucial for the future of California agriculture.
"Farm Credit is a strong supporter of FFA and has donated over $600,000 in the past 30 years to help FFA fulfill its mission," Littlefield said. "Farm Credit is committed to encouraging diversity and inclusion, and FFA's evolution is especially important to reflect the current make-up of California farms.  This will ensure that our farms and ranches and the rest of the ag industry continue to grow and prosper in the years to come."
Farm Credit Alliance members AgWest Farm Credit, American AgCredit, CoBank, Colusa-Glenn Farm Credit, Fresno Madera Farm Credit, Golden State Farm Credit and Yosemite Farm Credit are proud supporters of FFA. The organizations are part of the nationwide Farm Credit System – the largest provider of credit to U.S. agriculture.
Charles Parker, statewide FFA Advisor for the California Department of Education, said it took time during the 1980s and '90s to help Hispanic families understand that having their children participate in FFA was not just a pathway to working in the fields.
"The parents were farm laborers for the most part and the families didn't understand what we did. We said we want your children to grow and to go to college and we can help you get there," Parker said. "The students always wanted to be in it. Like all kids, they love to learn with their hands. But now we can show them that FFA students are going to college, and having those success stories is what drives parental support."
Otto said the growing Latino and female membership reflects the expansion of FFA from its farming and ranching origins. Members must be enrolled in an ag course at their middle school or high school to be involved. Classes include biology, chemistry, floriculture, welding and mechanics and are as diverse as ag is in California.
Parker agreed.
"We let them know that FFA is about more than working in the fields. It's building the next robot; it's doing engineering, developing new ways to sort fruit. Those are the alternatives we're looking at."
Lopez, who plans on being the first member of his family to attend college, is a perfect example of how FFA grows and develops members, said Isaac Robles, the ag department chair at Oakdale High and an FFA advisor.
"When he was a freshman, he was just another student. But through hard work and sticking to the program, I've seen him really develop into a young leader. We always have superstars from day one, but for Roberto it wasn't easy – he worked his tail off, and you see the potential that develops out of hard work," Robles said.
Developing tomorrow's ag leaders is another reason why Farm Credit backs FFA so strongly, said Jeana Hultquist, Vice President of Legislative Affairs with American AgCredit and a member of the California FFA Foundation Board of Directors.
"Roberto is a great example of how FFA develops great leaders. His long-term goal is to graduate from Cal Poly with a degree in ag business," Hultquist said. "There are thousands of other California FFA members who will become leaders in farming, in finance, in the sciences and in advocacy in the years to come. Many of them would not have had these opportunities without FFA."
###
About Farm Credit: 
AgWest Farm Credit, American AgCredit, CoBank, Colusa-Glenn Farm Credit, Fresno Madera Farm Credit, Golden State Farm Credit and Yosemite Farm Credit are cooperatively owned lending institutions providing agriculture and rural communities with a dependable source of credit. For more than 100 years, the Farm Credit System has specialized in financing farmers, ranchers, farmer-owned cooperatives, rural utilities and agribusinesses. Farm Credit offers a broad range of loan products and financial services, including long-term real estate loans, operating lines of credit, equipment and facility loans, cash management and appraisal and leasing services…everything a "growing" business needs. For more information, visit www.farmcreditalliance.com
About the California FFA Foundation:
California FFA Foundation serves more than 100,000 California students and strives to make a difference in their lives by developing their potential for premier leadership, personal growth and career success through educational education.