Farm Credit has sponsored organization's major fundraiser since 2011
In 1998, as today, many California ranchers were facing serious headwinds, including high taxes, escalating land prices, ever-increasing regulations and the threat of urban development. Many ranchers were getting out of the business or leaving California altogether.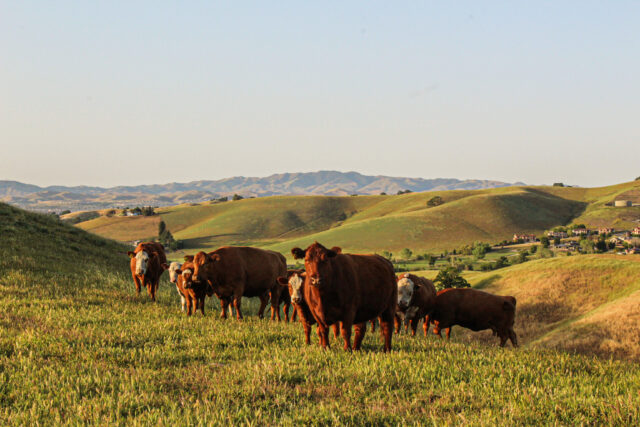 To protect California's cattle industry – which dates back to the first Spanish mission in 1769 – and allow families to continue ranching, leaders with the California Cattlemen's Association began looking for solutions. The one they settled on was creating a land trust similar to one ranchers in Colorado had formed a few years previously.
The plan worked. Today, the California Rangeland Trust is the state's largest statewide land trust. The owners of 84 properties totaling 377,434 acres have voluntarily sold or donated their development rights – an area equivalent to the cities of Los Angeles and Sacramento combined. And the amount of acreage continues to grow. In fact, by the end of this year – the organization's silver anniversary – the Rangeland Trust could have an even 100 conservation easements established, said Alyssa Rolen, the trust's communications director.
Rolen said there are many reasons why a ranching family would be interested in establishing a conservation easement.
"There's satisfaction in knowing that regardless of what happens in the future, their land will remain working open range land," Rolen said. "There are also financial benefits when they sell the development rights, which many do."
While the bulk of the Rangeland Trust's funding comes from state and federal conservation grants, the nonprofit also receives crucial private-sector funding, which Rolen said has been a big help in recent years. The group's major fundraising event is its A Western Affair, which takes place every other year. This year's event was held in May at Yolo Land and Cattle in Esparto. Farm Credit organizations with operations in California have come together annually to sponsor the gala since 2011.
"As Farm Credit partners with farmers and ranchers to grow the future, we stay rooted in our mission-based, farmer-owned legacy, which focuses on serving our customers and communities," said Regional Marketing Manager Jacob DeBoer with American AgCredit. "We are committed to helping preserve and protect California's rich ranching and farming resources, both through customized financial solutions—and by partnering with nonprofit organizations like Rangeland Trust."
Nearly 400 people attended this year's event, which raised $360,000. Rolen said a highlight was a resolution from Rep. John Garamendi, D-Walnut Grove, recognizing its contributions to the Golden State for the past 25 years. It was appropriate because in 1998, Garamendi and his family were the first ranchers in California to dedicate their development rights to the trust.
In addition, the Trust debuted the film trailer for its upcoming documentary Just Can't See Them From the Road, which attempts to connect people back to where their food comes from and show viewers why keeping ranchers ranching matters for everyone. The film screened at film festivals this summer with private screenings beginning this fall and through next year. (You can view the trailer and get more information here. https://rangelandtrust.org/fromtheroad/)
Kevin Ralph, California State President at AgWest Farm Credit, said the Rangeland Trust's work to preserve rangeland is vital.
"The Rangeland Trust works with ranchers interested in preserving their land to enter into voluntary legal agreements that permanently limit uses of the land to protect its conservation values," Ralph said. "The landowners retain many of their rights, including the right to own and use the land, sell it and pass it on to their heirs. As most ranches are family-owned, that is a major incentive because limiting estate taxes helps ensure that the property can be passed down to the next generation."
Farm Credit organizations supporting the Rangeland Trust are AgWest Farm Credit, American AgCredit and CoBank. These organizations are part of the nationwide Farm Credit System – the largest provider of credit to U.S. agriculture.
Rolen stressed that the Rangeland Trust doesn't actively seek properties.
"We don't contact landowners – they come to us," Rolen said. "Easements may not be a solution for all ranching families, but we're always open to having those discussions with ranchers who are interested. We work with the landowner to figure out what works best for them."
The benefits of preserving rangeland go far beyond the ranching community. Rolen said 62% of the state's open space consists of rangeland, 67% of the state's endangered species spend part of their lives on private rangeland and 85% of the state's water runs over rangeland.
"Rangeland is critical to air quality, water quality, wildlife habitats and local food supplies. We believe in protecting rangeland and the life it sustains," she said.
Protected parcels range from a 30-acre parcel in the Livermore area that protects the endangered California tiger salamander to the 80,000-acre Hearst Ranch in San Luis Obispo County that surrounds the famed Hearst Castle.
"The owners of the 30-acre parcel were close to losing the ranch because of an estate tax burden and a huge debt. Because of the conservation easement, the owners were able to keep it in ranching," Rolen said. "And the Hearst family has been quoted as saying that the coastline along Highway 1 could have looked like Malibu because of the opportunities for development, but now, with the conservation easement, it will never be developed and will remain beautiful open space forever."
While the goal is to finish the year with 100 ranches with conservation easements, Rolen said there are more than 90 ranches representing over 200,000 acres on their waiting list, awaiting funding.
"We know we won't stop after we reach that milestone because there is still a lot more work to do. Our goal is to help as many families stay on the land as possible because their stewardship benefits all Californians," she said.
###
About Farm Credit: 
AgWest Farm Credit, American AgCredit and CoBank are cooperatively owned lending institutions providing agriculture and rural communities with a dependable source of credit. For more than 100 years, the Farm Credit System has specialized in financing farmers, ranchers, farmer-owned cooperatives, rural utilities and agribusinesses. Farm Credit offers a broad range of loan products and financial services, including long-term real estate loans, operating lines of credit, equipment and facility loans, cash management and appraisal and leasing services…everything a "growing" business needs. For more information, visit www.farmcreditalliance.com
About the Rangeland Trust:
Founded in 1998 by a group of ranchers determined to safeguard rangeland agriculture and the natural ecosystems stewarded, California Rangeland Trust is the only rancher-led land trust in California. Over the last 25 years, the organization has permanently protected more than 377,000 acres of open rangeland to provide clean air and water, carbon sequestration, vibrant habitat for wildlife and healthy foods that all Californians rely upon. California Rangeland Trust is a 501 (c)(3) organization headquartered in Sacramento, Calif., dedicated to serving the land, people and wildlife by conserving California's working rangelands. For more information, visit www.rangelandtrust.org