Last year's chair of the California Farm Bureau's Young Farmers and Ranchers Program took a California message to the United Nations Climate Change Conference
The California Farm Bureau's Young Farmers and Ranchers (YF&R) program is designed to identify, grow and develop young Farm Bureau members and provide them with opportunities and experiences to help them become effective leaders in the agriculture community.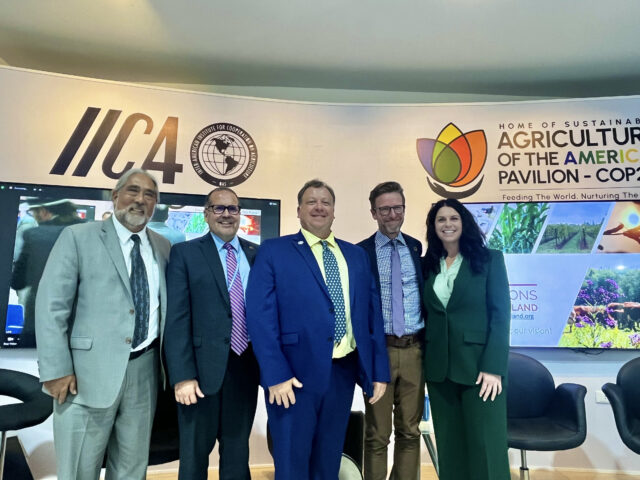 But when Jocelyn Anderson, a fourth-generation almond and walnut grower from Willows joined the state YF&R Committee in 2018, little did she realize the opportunities that would be made available to her, the latest being the United Nations Climate Change Conference, where she told delegates from around the world about ways California farmers are working to save water.
"I was able to meet people from around the world, farmers and people in policy. I didn't know what to expect but came out excited. Attendees said we need to work with farmers, or climate policies won't work," she said about the meetings in Sharm El-Sheikh, Egypt, in November.  "I think it opens the door for ag to continue to be at the table, make policymakers understand what we need to be successful and form better agreements together."
Mark Littlefield, President and CEO of AgWest Farm Credit, said developing future leaders like Anderson is why California's Farm Credit organizations have been supporting the YF&R program for nearly 15 years.
"The Young Farmers and Ranchers program has a great track record of developing future leaders in agriculture, both nationally and here in California," Littlefield said. "Farm Credit is proud to have provided over $145,000 over the years to support YF&R's efforts to promote farming and build stronger and sustainable rural communities."
Other Farm Credit organizations supporting the program are American AgCredit, CoBank, Colusa-Glenn Farm Credit, Fresno Madera Farm Credit and Yosemite Farm Credit. The organizations are part of the nationwide Farm Credit System – the largest provider of credit to U.S. agriculture.
California Farm Bureau President Jamie Johansson agreed that the YF&R program helps develop farming leaders.
"The California Farm Bureau is proud to support the next generation of farmers and ranchers through the Young Farmers and Ranchers program," Johansson said. "We see firsthand how participants in YF&R can make a difference locally, nationally and even internationally. The future of agriculture is in good hands, thanks to the contributions and dedication of our YF&R community."
Anderson's great-grandparents began the family's farming legacy, growing oranges in Anaheim on land now occupied by Disneyland. In 1950, her grandparents moved north to begin operations in Glenn County. The farm has grown to 1,000 acres and also includes a walnut hulling operation.
Besides learning everything her father, Gary, knows about farming so she can eventually assume the reins, Anderson has spent several years in YF&R activities at the state and national levels. She served on the California YF&R Committee for several years before becoming vice chair and in 2022 the organization's chair. During the last two years of her service, she was also an American Farm Bureau YF&R Committee member and helped organize state and national leadership conferences.
The most recent California YF&R conference was held in early December in Monterey and attracted more than 120 members.
She said developing expertise in agricultural issues so she could become a strong advocate was an important outcome of her participation.
It's important that we have people fighting for ag in the future," she said. "We have the fifth-largest agricultural economy in the world in California, with close to 400 different crops and livestock grown here. But it's also one of the most regulated states and we face issues other states haven't faced yet. Being an advocate for what small family farms need to be successful is doing what's best for my family farm and everyone else's."
Through her YF&R involvement, she was introduced to Solutions from the Land (SfL), a nonprofit formed in 2009 to put farmers, ranchers and foresters at the forefront of resolving food system, energy, environmental and climate challenges. SfL has brought farmers to the U.N. Climate Summits for a decade and participated in discussions during the past five years. This year, the summit featured its first ag-themed day.
She discussed how California farmers are using water more efficiently. For example, she said GSA Farms drains water used in hulling operations back into the fields so it can percolate into the ground and help recharge the aquifer. She also talked about how the farm reuses the shells and leaves from the hulling operations to fertilize the soil for planting winter wheat.
Anderson said she constantly encourages young people involved in agriculture to get involved in YF&R because it allows them to be advocates for the industry and to share their own stories with others.
"I think it's extremely important to belong," she said. "Not only does it create a network for you, it's also important that we have people fighting for ag in the future."
Keith Hesterberg, President and CEO of Fresno Madera Farm Credit, agreed.
"The state continues to impose increasingly stringent and expensive regulations on California's farmers and ranchers," Hesterberg said. "While many of these new requirements are well-intentioned, state officials need to understand how the cumulative impact is affecting farmers' ability to keep their businesses going. The best voice for agriculture is family farmers who can share their experiences and provide alternative solutions that can ensure that California continues to feed the nation for generations to come."
###
About Farm Credit: 
AgWest Farm Credit, American AgCredit, CoBank, Colusa-Glenn Farm Credit, Fresno Madera Farm Credit and Yosemite Farm Credit are cooperatively owned lending institutions providing agriculture and rural communities with a dependable source of credit. For more than 100 years, the Farm Credit System has specialized in financing farmers, ranchers, farmer-owned cooperatives, rural utilities and agribusinesses. Farm Credit offers a broad range of loan products and financial services, including long-term real estate loans, operating lines of credit, equipment and facility loans, cash management and appraisal and leasing services…everything a "growing" business needs. For a link to this article and for more information, visit www.farmcreditalliance.com
About the Young Farmers & Ranchers Committee:
The Young Farmers & Ranchers Committee is a program for agriculturalists between the ages of 18 and 35 involved in production, banking, business, and many other areas of the industry. YF&R provides opportunities to develop leadership skills through involvement in Farm Bureau at the county, state, and national levels. YF&R members are a vital part of the organization. Each member's efforts help California Farm Bureau to effectively represent the diversity of farmers and ranchers across the state. For more information, visit https://www.cfbf.com/ag-programs/young-farmers-ranchers