More than 600 farmers, policy makers to learn about latest developments to 'green' industry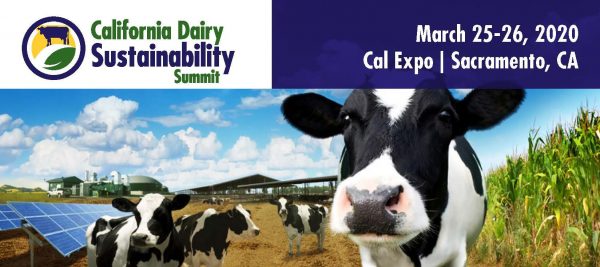 California's dairy industry is responsible for just under one-fifth of all the milk produced in the U.S., contributes $65 billion to the state's economy and is responsible for 180,000 California jobs. And while the industry has made impressive gains in becoming more environmentally sustainable, it continually faces new requirements.
To showcase these world-leading accomplishments and provide the latest information on research, technology and services that can support dairy farmers' efforts to meet these challenges, the second annual California Dairy Sustainability Summit will take place March 25-26 at Cal Expo in Sacramento, funded in part by a grant from Farm Credit. More than 600 farmers, policy makers, service providers and researchers are expected to attend.
Michael Boccadoro, executive director of Dairy Cares, a statewide coalition working to ensure the long-term sustainability of California's dairy farm families, said the summit is an important way to inform stakeholders of ways the industry has improved its environmental "hoofprint" and to serve as a forum to explore new ideas.
"California's dairy farmers have significantly reduced water use and greenhouse gas emissions on a per-gallon-of-milk basis and have also made great strides in protecting air and water quality," Boccadoro said. "The summit is designed to help the industry continue that progress in ways that are economically sustainable."
He said sponsors such as Farm Credit were essential in successfully launching the first summit at the end of 2018.
"We really appreciate that Farm Credit came in as a silver sponsor in our very first year," he said. "It took a lot to get this event launched and we really appreciate that Farm Credit was there to support our dairy farmers and that they continue to support our efforts this year."
Robert Faris Jr., president and CEO of Farm Credit Alliance member Golden State Farm Credit, said the sponsorship is part of Farm Credit's commitment to support California agriculture.
"Farm Credit's mission is to support rural communities and agriculture with reliable, consistent credit and financial services," Faris said. "But beyond that, we're here to support efforts to ensure that agriculture continues to thrive in changing times. Dairy farmers provide all of us with food products we can't live without, and we're proud to do everything we can to help them continue doing so."
Besides Dairy Cares, summit organizers are the California Dairy Quality Assurance Program, the California Dairy Research Foundation, the Dairy Council of California and the California Milk Advisory Board.
For more details about the summit, visit cadairysummit.com.
###
About Farm Credit:
American AgCredit, CoBank, Farm Credit West, Fresno Madera Farm Credit, Golden State Farm Credit and Yosemite Farm Credit are cooperatively owned lending institutions providing agriculture and rural communities with a dependable source of credit. For more than 100 years, the Farm Credit System has specialized in financing farmers, ranchers, farmer-owned cooperatives, rural utilities and agribusinesses. Farm Credit offers a broad range of loan products and financial services, including long-term real estate loans, operating lines of credit, equipment and facility loans, cash management and appraisal and leasing services…everything a "growing" business needs. For more information, visit www.farmcreditalliance.com.
About the California Dairy Sustainability Summit:
The California Dairy Sustainability Summit, taking place March 25-26, 2020, at Cal Expo in Sacramento, is co-hosted by Dairy Cares, California Milk Advisory Board, Dairy Council of California, California Dairy Quality Assurance Program, and California Dairy Research Foundation. Event partners include the California Dairy Campaign, California Dairies, Inc., Dairy Farmers of America – Western Area, Dairy Institute of California, Hilmar Cheese Company, Land O' Lakes, Milk Producers Council, Producer's Dairy, Joseph Gallo Farms, Western States Dairy Producers Association, and California Farm Bureau Federation. Learn more at CADairySummit.com.