Farm Credit joins in saluting Rominger Brothers Farms, the winner of this year's California Leopold Conservation Award. Farm Credit is a long-standing sponsor of the annual award, presented to landowners who ethically manage the natural resources in their care.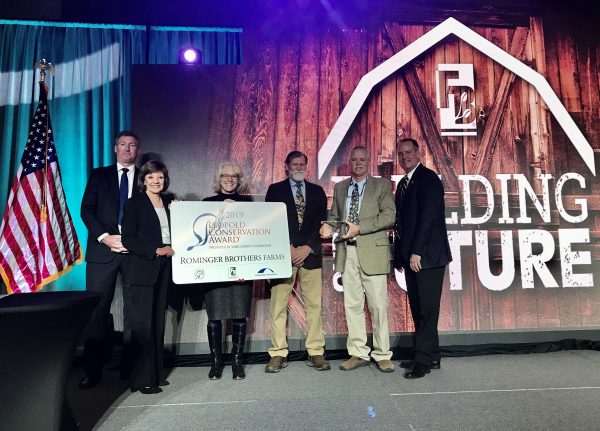 The Sand County Foundation, in conjunction with Sustainable Conservation and the California Farm Bureau Federation, presented the Winters-based farming operation with $10,000 and a crystal award at the Farm Bureau's annual meeting in Monterey last month.
Bruce and Rick Rominger grow diversified crops – including wine grapes, processing tomatoes, rice and hay – in ways that protect the environment, using a full toolbox of stewardship practices and partnerships. This includes planting miles of hedgerows to benefit important pollinators like bees, restoring over 5,000 feet of stream corridors to connect riparian areas and wetlands to aid a variety of species, and managing irrigation water on their rice fields to boost declining shorebird populations.
Mark Littlefield, CEO of Farm Credit West, said Farm Credit associations strongly encourage good stewardship of agricultural land.
"Farmers and ranchers are stewards of their land, and Farm Credit is proud to help recognize growers who are outstanding leaders in agricultural conservation," Littlefield said. "The Romingers have long been recognized leaders in adaptability and innovation while overcoming regulatory challenges. Together with their conservation goals, those principles enhance their business and they truly deserved this recognition."
David Bailey, the Sand County Foundation's western director, said the support of Farm Credit and other partners and sponsors makes the Foundation's efforts possible.
"The Leopold Conservation Award celebrates extraordinary achievement in voluntary conservation, and by doing so inspires countless other landowners and builds bridges between agriculture, government, environmental organizations, industry and academia to advance the cause of private lands conservation," Bailey said.
"None of this would be possible without the sponsors like Farm Credit who generously support our efforts."
The Sand County Foundation presents the Leopold Conservation Award to private landowners in 20 states for extraordinary achievement in voluntary conservation. Given in honor of renowned conservationist Aldo Leopold, the award recognizes landowners who inspire others with their dedication to land, water and wildlife habitat management on private, working land. In his influential 1949 book, "A Sand County Almanac," Leopold called for an ethical relationship between people and the land they own and manage.
###
About Farm Credit:
American AgCredit and Farm Credit West are cooperatively owned lending institutions providing agriculture and rural communities with a dependable source of credit. For more than 100 years, the Farm Credit System has specialized in financing farmers, ranchers, farmer-owned cooperatives, rural utilities and agribusinesses. Farm Credit offers a broad range of loan products and financial services, including long-term real estate loans, operating lines of credit, equipment and facility loans, cash management and appraisal and leasing services…everything a "growing" business needs. For more information, visit www.farmcreditalliance.com.
About the Leopold Conservation Award Program:
The Leopold Conservation Award is a competitive award that recognizes landowner achievement in voluntary conservation. Sand County Foundation presents the award in California, Colorado, Kansas, Kentucky, Missouri, Montana, Nebraska, North Dakota, Oklahoma, Pennsylvania, South Dakota, Texas, Utah, Wisconsin, and in New England (Connecticut, Maine, Massachusetts, New Hampshire, Rhode Island and Vermont). www.leopoldconservationaward.org
About the Sand County Foundation:
Sand County Foundation inspires and enables a growing number of private landowners to ethically manage natural resources in their care so future generations have clean and abundant water, healthy soil to support agriculture and forestry, plentiful habitat for wildlife and opportunities for outdoor recreation. www.sandcountyfoundation.org