Farm Credit provides seed money for food banks; Dairy Farmers of America, Hilmar Cheese donation 37,000 pounds of cheese.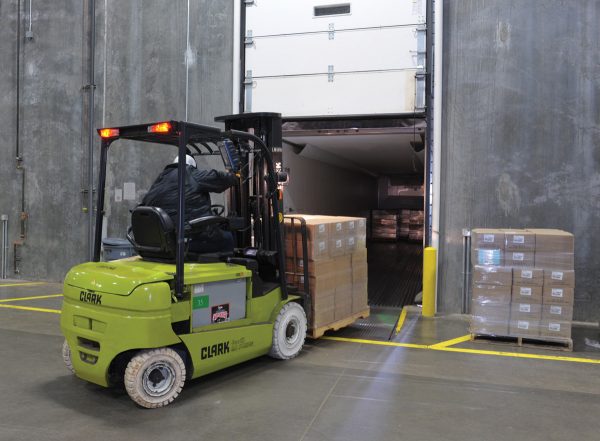 In an effort to provide food to California families in need, Farm Credit, Dairy Farmers of America (DFA) and Hilmar Cheese Company, Inc., are partnering to assist the expansion of the state's Farm to Family Program, as recognized last week by Gov. Gavin Newsom.
The program is designed to help meet the growing demand at California food banks due to the economic downturn caused by the coronavirus crisis.
The governor said in a press release that private funding from Farm Credit and other organizations "will be leveraged to launch a $15 million campaign to support the Farm to Family program through the end of the year."
Farm Credit is providing seed money to the California Association of Food Banks to help distribute 37,000 pounds of cheese – 10,000 pounds of two-pound cheese blocks from DFA and 27,000 pounds of bagged cheese shreds from Merced County-based Hilmar Cheese Company, said Leili Ghazi, the chair of the Farm Credit Marketing Alliance in California and senior vice president of the Farm Credit Banking Group at CoBank.
"This partnership between the dairy industry, the state and the private sector will provide nutritious food to the growing number of California families who need it, and we are proud to be a part of the program," Ghazi said. "Farm Credit, Hilmar Cheese and DFA have been working for several weeks to make this program a reality and I'm thrilled that we were able to overcome logistical challenges to make it happen."
Karen Ross, Secretary of the California Department of Food & Agriculture, expressed her appreciation for Farm Credit's involvement.
"I'm very the grateful to everyone in our agricultural family for stepping up in this critical time," said Ross, who helped develop the Farm to Family program. "Thank you, Farm Credit, for helping our rural communities and dairy farmers by supporting the delivery and packaging of wholesome dairy products to the food banks of our state."
And the cheese is greatly appreciated by food bank operators, said Stacia Hill Levenfeld, CEO of the California Association of Food Banks.
"Cheese is a coveted commodity at food banks as it's valued by young and old alike," Levenfeld said. "Food banks provide essential groceries for those who struggle to make ends meet, and we are incredibly grateful to Farm Credit for supporting access to cheese through our food banks. This donation could not come at a more opportune time as the need for nutrition support has exploded throughout our state. Thank you to Farm Credit for your donation and your leadership. I hope this inspires others to help us meet the urgent need in our communities."
Hilmar Cheese Company and DFA are also excited to be part of the program.
"Hilmar Cheese Company is pleased to have the opportunity to participate in this program and make 27,000 pounds of cheese available to families in need," said Denise Skidmore, the company's director of education and public relations. She noted that the donation is the equivalent of 432,000 one-ounce servings.
Added Gary Stueve, chief operating officer for DFA's Western Area: "We are honored to partner with the state of California to provide nutritious dairy products to individuals and families who need it most right now. Even though they are facing hardship in these uncertain times, our farm families remain dedicated in their commitment to supporting the communities in which we live and work."
Food banks have seen an increase in demand of over 70% compared to the previous year, while farmers and ranchers have seen their market decrease by 50% because of the sharp drop-off in demand for fresh produce, dairy products, meat and other commodities in the foodservice sector.
The shelter-in-place orders have caused schools, restaurants and other foodservice businesses to sharply reduce or eliminate purchases. With no market for their commodities, many farmers, dairy operators and others have been forced to dump or plow under food because they can't afford to pay to harvest, process and ship finished products to food banks.
The Farm to Family Program will facilitate food donations from farmers and ranchers by supporting food production, processing and distribution of the food supply chain, including offsetting the costs of picking, packing and transporting donated commodities. The program is partnering with 41 food banks serving all 58 California Counties.
###
About Farm Credit:
American AgCredit, CoBank, Farm Credit West, Farm Credit Services Colusa-Glenn, Fresno Madera Farm Credit, Golden State Farm Credit and Yosemite Farm Credit are cooperatively owned lending institutions providing agriculture and rural communities with a dependable source of credit. For more than 100 years, the Farm Credit System has specialized in financing farmers, ranchers, farmer-owned cooperatives, rural utilities and agribusinesses. Farm Credit offers a broad range of loan products and financial services, including long-term real estate loans, operating lines of credit, equipment and facility loans, cash management and appraisal and leasing services…everything a "growing" business needs. For more information, visit www.farmcreditalliance.com.
About Dairy Farmers of America:
Dairy Farmers of America is a national, farmer-owned dairy cooperative focusing on quality, innovation and the future of family dairies. While supporting and serving more than 13,000 family farmers, DFA works with some of the world's largest food companies to develop ingredients that satisfy their customers' cravings while staying committed to social responsibility and ethical farming. For more information, please visit dfamilk.com.
About Hilmar Cheese Company:
Hilmar Cheese Company, Inc. improves lives around the world as a leading producer of wholesome dairy products. Founded in 1984, Hilmar Cheese Company and its division, Hilmar Ingredients, serve customers in more than 50 countries. State-of-the art production facilities in California and Texas convert high-quality milk received from local independent dairy farms into a variety of nutritious cheese and whey ingredients. The company specializes in the production of cheddar and American-style cheeses utilized by private label and national brand companies worldwide. Its Hilmar Ingredients division manufactures and markets globally a wide range of whey protein and lactose products. Committed to continuous improvement, innovation and sustainability, Hilmar Cheese Company strives to make products that benefit all involved from our customers to our suppliers to our employees and communities. Together, we deliver the promise of dairy. www.hilmarcheese.com