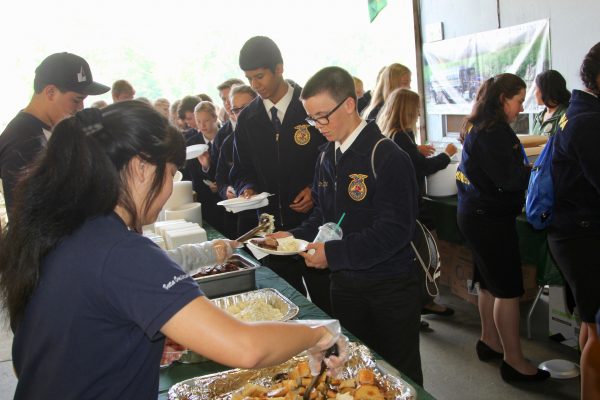 For 91 years, California FFA students have descended on Cal Poly San Luis Obispo for the organization's state judging finals, where more than 2,000 high school students compete in more than 20 competitions. Winners earn the right to compete in the national competition in Indianapolis in late October.
Needless to say, it takes a lot to feed 2,000 teenagers, their parents and their teachers, and that's where Farm Credit comes in.
Once again, American AgCredit, Farm Credit West and their lending partner CoBank contributed funding to provide a tri-tip barbecue at the close of the competition for contestants, their parents and teachers, and Cal Poly students and faculty participating in the judging.
The $18,000 donation purchased a ton of beef and all the fixings for a Santa Maria-style tri-tip dinner.
Scott Vernon, a professor of agricultural communications at Cal Poly, said the school and FFA deeply appreciate Farm Credit's support.
"Farm Credit has stepped up to feed them for 36 years, and it's one of the premier events each year for the students," he said.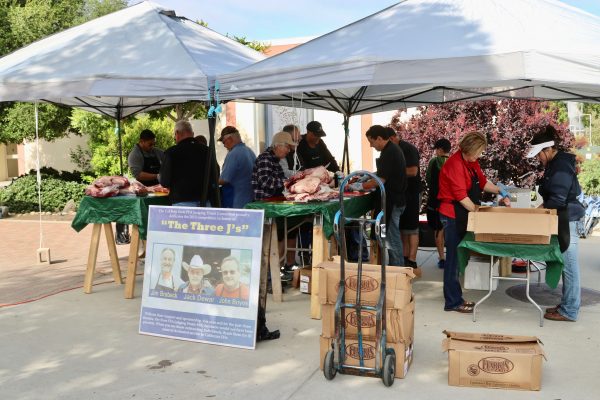 Dozens of volunteers from Farm Credit West, which serves San Luis Obispo County, brought in five grilling trailers to cook the lunch. Leili Ghazi, the Farm Credit Alliance chair and Senior Vice President of the Farm Credit Banking Group for CoBank, said Farm Credit strongly support programs like FFA, which develop the next generation of California's farmers and ranchers.
"The FFA State Finals would not be possible without the support of Farm Credit and other farm-related companies that recognize the importance of developing students so they can be part of the agricultural industry in the years to come," Ghazi said. "Feeding all these hungry students year after year has become a tradition that Farm Credit is proud to continue."
Held this year on May 4, students from more than 160 schools from around the state participated in events including Agronomy, Dairy Cattle, Farm Business Management, Floriculture, Forestry, Livestock, Nursery Landscape, Marketing, Vegetable Crops, Vet Science and Welding. Events were judged by volunteers including Cal Poly faculty, staff and students, along with industry professionals and community members.
The competitions are demanding, Vernon said. For example, students in the Meat Science competition evaluate and grade carcasses like a USDA inspector would, have to identify different cuts of meat from hogs, lambs, and cattle. On average, between 100 and 150 students participated in each of the 23 contests.
About Farm Credit:
American AgCredit, CoBank, and Farm Credit West are cooperatively owned lending institutions providing agriculture and rural communities with a dependable source of credit. For more than 100 years, the Farm Credit System has specialized in financing farmers, ranchers, farmer-owned cooperatives, rural utilities and agribusinesses. Farm Credit offers a broad range of loan products and financial services, including long-term real estate loans, operating lines of credit, equipment and facility loans, cash management and appraisal and leasing services…everything a "growing" business needs. For more information, visit www.farmcreditalliance.com