Fresno State's Student Veteran Organization sees strong turnout for annual veterans' tailgate
Veterans love tacos. At least veterans at California State University, Fresno, love tacos. Especially when they're free.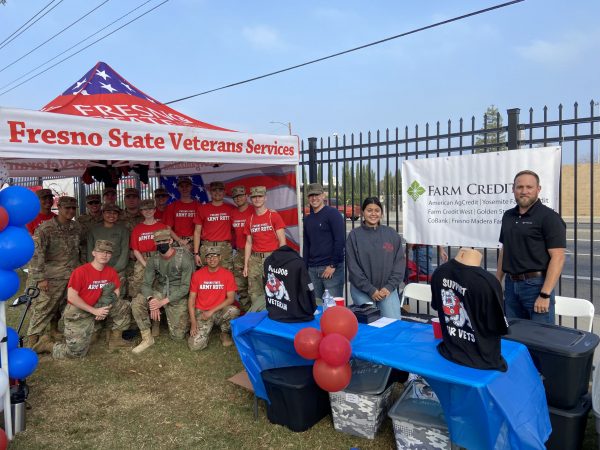 That's what Eliza Hernandez, the president of the university's Student Veteran Organization, attributed the larger-than-usual attendance for the annual veterans' tailgate, which has been sponsored by Farm Credit since 2018.
Hernandez said 130 veterans attending Fresno State, their family members, and ROTC cadets gathered for the 2021 tailgate, held prior to Fresno State's 34-7 victory over New Mexico.
"It was one of the biggest turnouts we've had, and it had to do with the tacos, which were free for attendees," Hernandez said. "This year I chose to do catering from Mi Linda Tierra, a taco place in Sanger, to help a small business."
Keith Hesterberg, President and CEO of Fresno Madera Farm Credit, said Farm Credit sponsors the annual event because of the university's strong support of its veteran students.
"Veterans make up a much smaller proportion of college students than in years past, but it's just as important to support their transition to civilian life and to help them prepare for their future," Hesterberg said. "Through its Veterans Resource Center Student and Veteran Organization, Fresno State has made that commitment, and Farm Credit is proud to help support this annual event to recognize veterans."
Besides Fresno Madera Farm Credit, American AgCredit, CoBank, Colusa-Glenn Farm Credit, Farm Credit West, and Yosemite Farm Credit provide funding. The organizations are part of the nationwide Farm Credit System – the largest provider of credit to U.S. agriculture.
Mark Littlefield, President and CEO of Farm Credit West, said the 2021 tailgate was particularly meaningful as the campus – along with the rest of the state and nation – began to rebound from the COVID-19 restrictions.
"This was the first semester since the pandemic hit that students were back on campus, allowing the Student Veteran Organization to hold the tailgate and provide free tickets to the football game," Littlefield said. "Farm Credit was particularly glad to be able to sponsor the event this year for students who are returning to some semblance of normal."
Hernandez, an Army reservist who recently graduated with a degree in criminology and law enforcement, said the ticket department donated 700 tickets to the game.
###
About Farm Credit:
American AgCredit, CoBank, Colusa Glenn Farm Credit, Farm Credit West, Fresno Madera Farm Credit, and Yosemite Farm Credit are cooperatively owned lending institutions providing agriculture and rural communities with a dependable source of credit. For more than 100 years, the Farm Credit System has specialized in financing farmers, ranchers, farmer-owned cooperatives, rural utilities and agribusinesses. Farm Credit offers a broad range of loan products and financial services, including long-term real estate loans, operating lines of credit, equipment and facility loans, cash management and appraisal and leasing services…everything a "growing" business needs. For more information, visit www.farmcreditalliance.com
About the Student Veterans Organization
Today's veterans face tremendous obstacles in their path of attaining a college degree. These challenges range from a missing sense of camaraderie to a lack of understanding by university faculty and peers. When coupled with the visible and invisible wounds of war, a college degree seems to be an elusive goal for men and women returning from military service. Student Veterans Organization (SVO) makes that goal a reality.