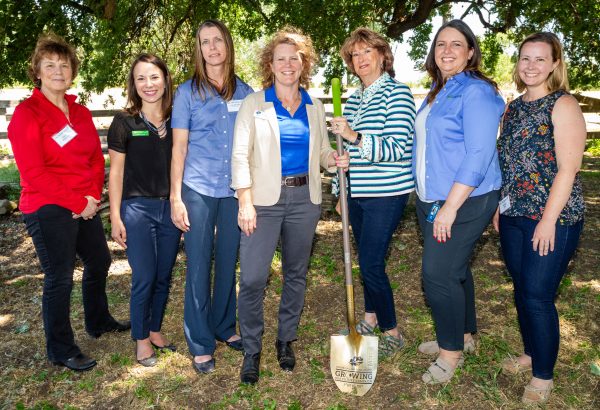 For 25 years, the Center for Land-Based Learning has provided hands-on education and workforce development opportunities to high school-aged youth and beginning farmers. With its current facility bursting at the seams, Land-Based Learning recently held a ground-breaking ceremony for its all-new home outside of Woodland and Farm Credit is proud to help make it possible.
Participating Farm Credit associations have pledged to contribute $100,000 – $20,000 a year for the next five years – to help make this new statewide headquarters a reality, which Executive Director Mary Kimball said was invaluable.
"Without the strong support of Farm Credit and our other major donors, we could not have begun construction on this critically needed new workforce development campus and statewide hub," Kimball said.
"Farm Credit has been a major supporter of ours for years and we deeply appreciate their investment in the future of this organization and its programs."
The new facility will include 30 acres of prime farmland for beginning farmer training and a farm business incubator, a 5,400-square-foot administrative office, classrooms and meeting space, expanded produce handling and storage facilities, and a hub to grow statewide partnerships and new ventures.
"Ensuring the Center for Land-Based Learning is able to continue its leadership role in training and encouraging the next generation of farmers is an important priority for Farm Credit," said Leili Ghazi, Senior Vice President of the Farm Credit Banking Group for CoBank, a part of the Farm Credit System.
"Through its FARMS Leadership Program, Land-Based Learning introduces, trains, and recruits high school students for college and career opportunities in agriculture and environmental science, and its California Farm Academy provides beginning farmers with the knowledge, technical skills, business competency, and resources to become successful," Ghazi said.
"These and other programs offered by the Center for Land-Based Learning are invaluable for training and developing our next generation of farmers, and Farm Credit strongly supports these great programs."
Besides CoBank, California Farm Credit System members American AgCredit, Farm Credit West, Fresno-Madera Farm Credit, Golden State Farm Credit, Colusa-Glenn Farm Credit, and Yosemite Farm Credit are contributing to the Systemwide effort.
The Center is still looking for additional support for its Growing Our Future campaign. For more information, contact Christine McMorrow at 530-795-1520.
About Farm Credit:
American AgCredit, CoBank, Farm Credit West, Fresno-Madera Farm Credit, Golden State Farm Credit, Colusa-Glenn Farm Credit and Yosemite Farm Credit are cooperatively owned lending institutions providing agriculture and rural communities with a dependable source of credit. For more than 100 years, the Farm Credit System has specialized in financing farmers, ranchers, farmer-owned cooperatives, rural utilities and agribusinesses. Farm Credit offers a broad range of loan products and financial services, including long-term real estate loans, operating lines of credit, equipment and facility loans, cash management and appraisal and leasing services…everything a "growing" business needs. For more information, visit www.farmcreditalliance.com
About the Center for Land-Based Learning:
Established in 1993 by walnut farmers Craig and Julie McNamara, the nonprofit Center for Land-Based Learning inspires, educates and cultivates future generations of farmers, agricultural leaders and natural resource stewards. From new farmers and entrepreneurs who need access to land and capital, to high school students just starting to explore career paths, the Center for Land-Based Learning provides the training, direction and resources that lead to success.
 The Center for Land-Based Learning is the largest organization of its kind in the state. Our broad spectrum of programs, services and audiences make the Center for Land-Based Learning a unique driver of California's workforce development, conservation efforts and agricultural economy. For more information visit: www.landbasedlearning.org.