40th EcoFarm Conference educated and inspired 1,600 people about sustainable farming
The 40th EcoFarm Conference – the oldest and largest organic farming conference in the West – went off without a hitch in late January, providing some 1,600 attendees with a wide range of information about how to grow food sustainably.
And once again, the conference was supported by Farm Credit as part of its ongoing commitment to promote California agriculture – support that is particularly important to organizers of the event, said Dina Izzo, sponsorship and exhibitor manager for the Ecological Farming Association.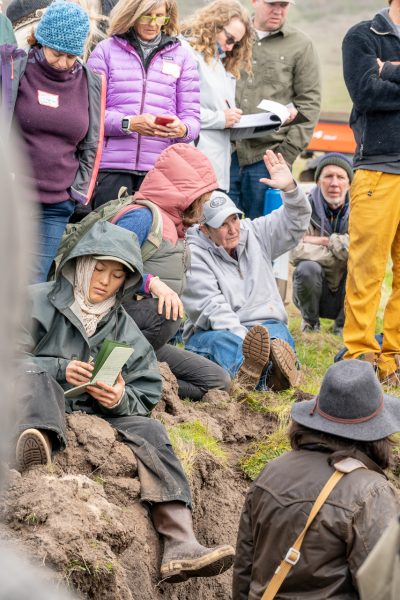 "Farm Credit has been a long-time partner and that's very much valued by the organization," Izzo said, who added that its support is more important than just financial.
"Its support makes a great statement because it gives validity to what we do. It shows our work is of value" to the broader farming community.
Those thoughts were echoed by Keith Hesterberg, President and CEO of Fresno Madera Farm Credit
"California's farmers are committed to innovation and organic farming as an important part of the future of agriculture," Hesterberg said. "By supporting EcoFarm and many other important conferences, Farm Credit helps make it possible for our growers and ranchers to have opportunities to learn about the latest developments and ideas to help their businesses prosper."
EcoFarm this year featured informative keynote addresses and more than 70 workshops from January 22-25 at the Asilomar Conference Grounds in Pacific Grove. It included such subjects as how to begin farming and ranching; soil, crops and regulations; ecosystems; women in food and agriculture; and equity, social justice and food sovereignty.
Izzo also noted that there more young and non-white attendees this year than ever, part of the group's outreach efforts to make EcoFarm look more like the future of sustainable agriculture. She added that one of the most popular sessions each year is the conference's Successful Organic Farmers keynote, because presenters often have different perspectives of success than just profitability.
"Everyone has a different idea of success, and hearing different farmers speak about what success means to them is always inspiring," she said. "People get a big boost from that session because it's not preaching to the choir, it's inspiring the singers."
For more information and to keep informed about next year's conference, visit eco-farm.org.
About Farm Credit:
American AgCredit, CoBank, Farm Credit West, and Fresno Madera Farm Credit are cooperatively owned lending institutions providing agriculture and rural communities with a dependable source of credit. For more than 100 years, the Farm Credit System has specialized in financing farmers, ranchers, farmer-owned cooperatives, rural utilities and agribusinesses. Farm Credit offers a broad range of loan products and financial services, including long-term real estate loans, operating lines of credit, equipment and facility loans, cash management and appraisal and leasing services…everything a "growing" business needs. For more information, visit www.farmcreditalliance.com.
About the Ecological Farming Association:
EcoFarm nurtures just and ecologically sustainable farms and food systems through education, alliance building, celebration and advocacy.