Farm Credit Sponsorship to Help Expand Program, Reach Out to Urban Areas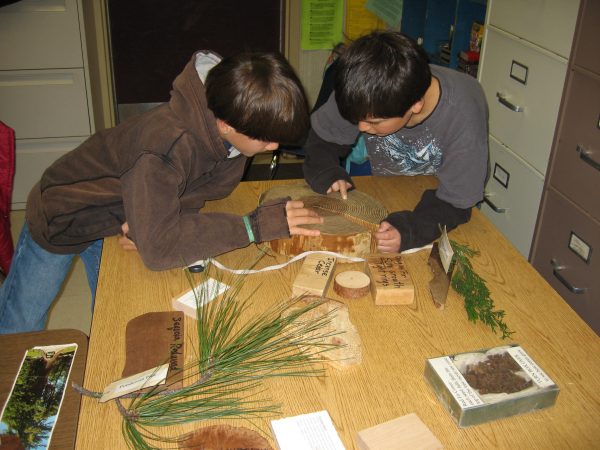 California's forests have more kinds of native cone-bearing trees – 52 species – than any other state in the union. But too few students are really aware of what the state's diverse forests mean to our environment and economy.
That's where the California Forest Foundation's long-running Talk About Trees program comes in, said the Foundation's executive director, Jann Taber.
"Talk About Trees is an in-class program that brings the forest into the classroom. The program uses hands-on, experiential learning so students can understand the science and societal importance of our forest and how fire and other factors can threaten their well-being," Taber said.
"The program also talks about the many thousands of products that come from trees and the importance of management through sustainable forestry, which is imperative to maintaining a renewable resource."
Thanks in part to a series of grants from Farm Credit, which helps sponsor the program, last year alone Talk About Trees reached 50,108 students and 2,903 teachers, utilizing 10 independent facilitators who visited 66 schools in 16 counties: Del Norte, Fresno, Humboldt, Madera, Mendocino, Nevada, Placer, Sacramento, San Diego, Shasta, Siskiyou, Sutter, Trinity, Tulare, Tuolumne and Yuba. The program also sponsored five outdoor education partnership schools.
"We were very excited to receive our grant, because we're in the process of planning the next generation of the Talk About Trees program. The new program will expand our reach and put more emphasis on today's societal needs, which include reaching out to urban areas and underserved populations," she said.
Leili Ghazi, chair of the Farm Credit Alliance and Senior Vice President of the Farm Credit Banking Group for CoBank, said Farm Credit is proud to support agricultural education programs in California.
"Talk About Trees provides important information to California's students that they otherwise wouldn't receive," Ghazi said. "Forests provide everything from the homes students live in to the paper and pencils they write with. They also serve as critical habitat for thousands of species and help to combat climate change.
"We look forward to continuing our support and helping the Forest Foundation expand this important program in the years to come."
Talk About Trees is impactful instruction including hands-on, engaging experiences aligned with modern content standards to bring the forest into the classroom, including learning about:
tree identification and biology,
the process of photosynthesis,
forest ecosystems,
the impacts of insects, fire and drought on forest health,
tree resources and wood products, and
forest conservation and management.
For example, facilitators bring branches with different cones for students to touch and see to learn how to identify some of the most common trees found in the state. They also bring in bark that's been invaded by beetles and learn how trees sequester carbon and how important that is.
"It makes science make sense and fun to learn," Taber said.
The Sacramento-based Forest Foundation is a nonprofit that works to educate Californians about the benefits of sustainable forestry by providing balanced, science-based information about the environmental, economic and societal uses of forest resources for the present and for future generations.
To date Farm Credit has contributed $100,000 to this organization.  Participating organizations are  American AgCredit, Farm Credit West, and CoBank.
###
About Farm Credit:
American AgCredit, CoBank, and Farm Credit West are cooperatively owned lending institutions providing agriculture and rural communities with a dependable source of credit. For more than 100 years, the Farm Credit System has specialized in financing farmers, ranchers, farmer-owned cooperatives, rural utilities and agribusinesses. Farm Credit offers a broad range of loan products and financial services, including long-term real estate loans, operating lines of credit, equipment and facility loans, cash management and appraisal and leasing services…everything a "growing" business needs. For more information, visit www.farmcreditalliance.com.
About the Forest Foundation:
The Forest Foundation is a 501(c)(3) non-profit that educates Californians about sustainable forests and how they protect the environment and the grow economy. From the classroom to the Capitol, we are the source on California forestry. The Foundation keeps kids connected to the forest, educates students and teachers through our in-class Talk About Trees presentations, provides free teaching materials and environmental curriculum for classrooms and many other educational programs. For more information, visit www.calforestfoundation.org.