Farm Credit Provides Bulk of Funding for Multicultural Scholars in Agriculture Program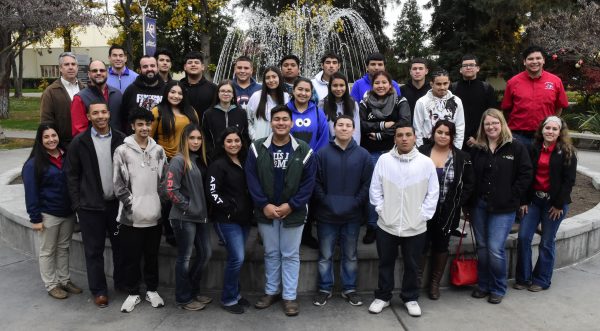 Anarely Flores has farming in her DNA. Her grandfather was a farmer in Mexico, and when her family visited him during the summer as a child, she would be put to work. But she didn't like farm work and her mother is employed in agriculture so she decided at an early age that she would go in a different direction.
Then came her freshman year in high school in Tulare.
"I took one ag class that year because I wanted to get off campus for an hour, and I fell in love with agriculture all over again," said the senior agricultural education major at California State University, Fresno. "My teacher had a huge influence on me."
That teacher played a huge role in Flores' senior year, when a technical glitch prevented schools from receiving her transcripts, so she was turned down by Fresno State and other colleges she applied to.
"I felt really crushed when I didn't get in anywhere, but she said, 'You have potential – you can't give up.' We appealed, and I was accepted. She helped change my life, and I want to offer that to other kids," Flores said.
To pay that debt forward, Flores plans on becoming an ag teacher in the Central Valley. In the meantime, she has been part of Fresno State's innovative Multicultural Scholars in Agriculture program, which provides support for students who reach out to middle and high school students who believe college is out of their reach to encourage them to attend college and consider careers in agriculture.
The program was established by four members of the Farm Credit System – American AgCredit, CoBank, Farm Credit West and Fresno Madera Farm Credit. Since the program's inception in 2013, they, along with Golden State Farm Credit, have donated $450,000 of the $660,500 raised to launch the program, and have supported 18 students at the university's Jordan College of Agricultural Sciences and Technology.
Leili Ghazi, Western Region President for CoBank, said the program has already proven to be a success.
"This program has enabled Fresno State to reach out to students in farming communities who might never have considered going to college and get them interested in both college and in careers in agriculture," Ghazi said. "I know the student ambassadors feel a real sense of accomplishment when they later see the students they have contacted on campus.  We're proud to have been a part of this effort."
Dr. Steven Rocca, who runs the program, said the personal contact from minority college students with their middle and high school peers can make a big difference.
"In many of these families, agriculture has a negative connotation because of their association with field work," Rocca said. "It can be a hard sell to convince a family that there's a future for their child studying agriculture at a university."
He noted many jobs for college graduates pay well, even six figures, but many high school students would never think of them, such as representatives for agricultural chemical companies, dieticians, food safety experts, crop advisors and teachers.
Ambassador Liliana Reyes Solorio, a junior from Livingston, also comes from a farmworker family and said it's important to increase diversity in higher-paying agricultural jobs.
"My town is a small, Hispanic town where kids might see their parents do the farm labor work, but we also want to showcase the wide variety of job opportunities available in ag," she said.
She said she plans to become an ag teacher, perhaps in an urban area where she can educate students about where their food comes from and the importance of farming.
While some of the ambassadors meet with hometown high school students during winter break, it can be difficult for them to travel to farming communities to meet with students during the school year. So this year Rocca said Fresno State is hosting groups from several high schools on the university campus. Students will tour the campus farm, learn about careers in agriculture and witness, first hand, what college life is like. They will also have the opportunity to learn how to apply for college, financial aid and scholarships.
The first of these sessions took place on December 4, when a group of more than 20 students from Parlier High School visited the school.
One of the participants, junior Johnathan Rangel, said it was very helpful hearing from students about the programs and their experiences.
"We're going to be in their position. (It's good) just to see how they experience things, their type of schedule and how they get to work around with it," Rangel said. "They were giving us lots of tips and pointers about college life."
He also said that he was encouraged by hearing from one of the multicultural scholars who came from a similar background.
"I picked up that I can pretty much do it myself. He came from a little town far away but he can still come and accomplish big things. I think I really would like to come here," he said.
###
About Farm Credit: American AgCredit, CoBank, Farm Credit West, Fresno-Madera Farm Credit, and Golden State Farm Credit are cooperatively owned lending institutions providing agriculture and rural America with a dependable source of credit. We specialize in financing farmers, ranchers, farmer-owned cooperatives, rural utilities and agribusinesses. Farm Credit offers a broad range of loan products and financial services, including long-term real estate loans, operating lines of credit, equipment and facility loans, cash management and appraisal and leasing services…everything a "growing" business needs. For more information, visit www.farmcreditalliance.com