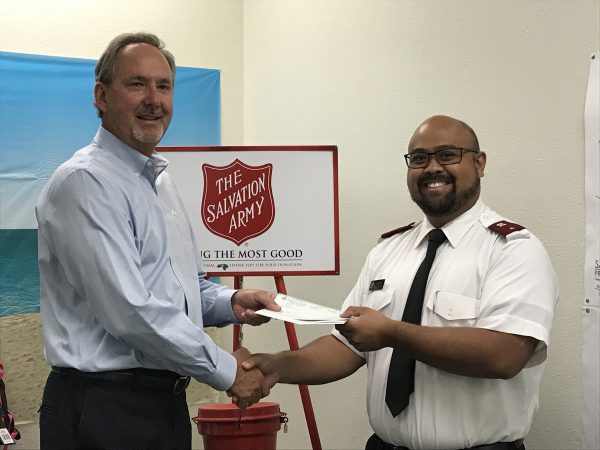 Chico, CA (8-24-18) – Golden State Farm Credit and CoBank, cooperative banks serving vital industries throughout rural America, have donated $10,000 to the Salvation Army to help further their efforts to support the residents, in Shasta and Trinity counties, affected by the Carr Fire.
Headquartered in Kingsburg CA, Golden State Farm Credit provides dependable financing solutions for people involved in agriculture throughout Northern and Central California. Golden State Farm Credit assists many local non-profit organizations by providing financial contributions, volunteer support, scholarships, donations, and technical expertise.
The Carr fire erupted on July 23, 2018 in Redding, CA. It quickly grew to over 100,000 acres, causing over 38,000 residents to be evacuated. The fast moving fire caused destruction to timber, range land, out buildings, businesses, as well as 1079 residential homes. To this date the fire has burned over 229,651 acres and is 93% contained.
"Golden State Farm Credit is deeply rooted in the communities we serve and understands the impact the Carr fire will have for years to come," stated J. Fletcher Monroe, Golden State Farm Credit's President and Chief Executive Officer. "We are committed to assisting those affected by the fire and partnering with CoBank to support the Salvation Army is the first step in helping those in need."
As one of the nation's major emergency relief organizations, the Salvation Army recognizes the critical importance of being prepared for natural and manmade disasters. The Salvation Army activated immediate emergency response to help the Shasta County residents affected by the Carr fire. After the fire has been contained and the response teams go home, the Salvation Army will provide much needed long-term recovery assistance to those in need. They understand that it will take several years for the Shasta Community to recover from the devastation caused by the Carr fire.
CoBank, a cooperative bank serving agribusinesses, rural infrastructure providers and Farm Credit associations throughout the United States has a longstanding commitment in partnering with associations to help support and relief efforts in times of emergencies, like the Carr fire.
"Throughout California, many communities have felt the impact of the recent wildfires," said Leili Ghazi, regional president, CoBank. "When disasters strike, CoBank works hand-in-hand with our customers and our Farm Credit partners to aid relief agencies, like the Salvation Army, who are working hard to alleviate suffering and to help impacted communities recover. We are proud to partner with Golden State Farm Credit to assist the residents of Shasta and Trinity counties, and all those impacted by the Carr fire."
About Golden State Farm Credit
Golden State Farm Credit is a premier employer and borrower-owned cooperative, dedicated to providing reliable credit and financial services to rural agricultural communities located in Northern and Central California. Golden State Farm Credit is focused on helping agriculturalist reach their goals with mortgage and commercial loans, competitive interest rates, equipment leasing, appraisal services, and a special lending program for Tomorrow's Farmers. Find out more about Golden State Farm Credit at www.goldenstatefarmcredit.com or call 800.834.8698.
About CoBank
CoBank is a $131 billion cooperative bank serving vital industries across rural America. The bank provides loans, leases, export financing and other financial services to agribusinesses and rural power, water and communications providers in all 50 states. The bank also provides wholesale loans and other financial services to affiliated Farm Credit associations serving more than 70,000 farmers, ranchers and other rural borrowers in 23 states around the country.
CoBank is a member of the Farm Credit System, a nationwide network of banks and retail lending associations chartered to support the borrowing needs of U.S. agriculture, rural infrastructure and rural communities. Headquartered outside Denver, Colorado, CoBank serves customers from regional banking centers across the U.S. and also maintains an international representative office in Singapore. For more information about CoBank, visit the bank's web site at www.cobank.com.