P. S. I Love You promotes Petite Sirah with help from ongoing Farm Credit support.
The wine industry is a huge part of California agriculture. According to the Wine Institute, there are 5,900 wine grape growers in the Golden State, cultivating the crop on 635,000 acres. The growers harvest almost 4 million tons of grapes a year, generating over $3 billion in farmgate revenue. In total, the wine industry has an economic impact of $57 billion a year and employs 325,000 Californians.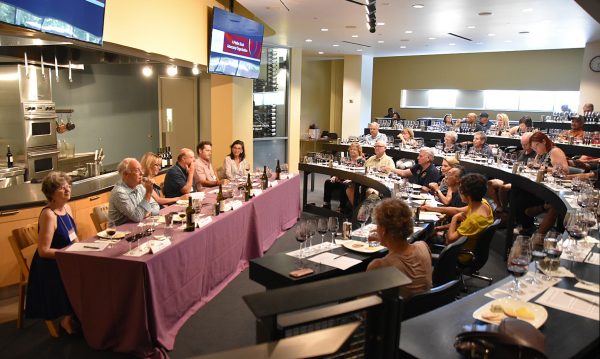 As part of the nationwide Farm Credit System – the largest provider of credit to U.S. agriculture – American AgCredit and Farm Credit West are leading lenders to the state's growers and wineries. And in collaboration with CoBank, the three Farm Credit organizations also support many wine-related organizations.
A small but growing organization Farm Credit has supported since 2014 is P.S. I Love You – not a Beatles tribute band but the advocacy group for Petite Sirah. The grape is a cross of Syrah and an obscure French grape called peloursin that has been grown in California since the 1880s. By the 1970s, production of this grape had faded. Jo Diaz, one of the group's founders and still its executive director, said all of that changed after a Petite Sirah symposium held in 2002.
"At the time, most petite sirahs were very rustic. Nobody had tamed the tannins," she recalled. In fact, for many years the varietal was one of the wines blended into Gallo's Hearty Burgundy jug wine. But the symposium unlocked the secret to success when winemaker Jeff Cohn, then with Rosenblum Cellars, blurted out how he made smooth and approachable Petite Sirahs.
"Jeff told me he only came to listen, but before he knew it, he was spilling his guts," Diaz said. "He said he picked the grapes at night when it's cooler, and then left the grapes to cold ferment for a week before punching down the cap of skins. That makes the most elegant wine possible. Today, almost everyone makes it that way."
Since the group formed, Diaz has reached out to hundreds of wine writers to cajole them to sample the varietal.
"I'm a storyteller. Most of the reviews on our website have come from stories I've written and sent to my media friends. In the beginning, it was slow, but as the years went by, the amount of reviews grew. Reviews cause curiosity and that causes sales to happen," she said.
Diaz said Farm Credit's support "basically saved our advocacy group last year because of COVID."
"Farm Credit stepped up and helped keep this small advocacy group thriving. They give back with support to the community, and they recognize the need for small advocacy groups like ours," she said.
Mark Littlefield, President and CEO of Farm Credit West, said Farm Credit supports wine organizations large and small.
"California produces over 100 varieties of wine, not just Cabernet Sauvignon and Chardonnay," he said. "For nearly 20 years, P.S. I Love You has done a great job of educating wine writers and, through them, the public about this great varietal. Most of the growers and wineries are small operations, and we're proud to have played a role in their success."
Curt Hudnutt, President and CEO of American AgCredit, noted that Farm Credit supports a wide range of wine advocacy groups.
"This year, besides P.S. I Love You, Farm Credit is supporting such groups as the Family Winemakers of California, the San Joaquin Valley Winegrowing Association, the Sustainable Ag Expo, CA Association of Winegrape Growers, Unified Wine and Grape Symposium, Wine Industry Symposiums, the Wine Institute,  and Women of the Vine," Hudnutt noted. "In all, our support totals more than $46,000 and we look forward to many more years of helping promote the vital wine industry here in California."
###
About Farm Credit: 
American AgCredit, CoBank, and Farm Credit West are cooperatively owned lending institutions providing agriculture and rural communities with a dependable source of credit. For more than 100 years, the Farm Credit System has specialized in financing farmers, ranchers, farmer-owned cooperatives, rural utilities and agribusinesses. Farm Credit offers a broad range of loan products and financial services, including long-term real estate loans, operating lines of credit, equipment and facility loans, cash management and appraisal and leasing services…everything a "growing" business needs. For more information, visit www.farmcreditalliance.com.
About Petite Sirah I Love You, Inc: 
Petite Sirah I Love You, Inc. is a 501 (c)6 non-profit, advocacy organization, dedicated to raising awareness for Petite Sirah, an American heritage, wine grape cultivar, as recognized by the University of California at Davis. PS I Love You promotes and accents the positives of Petite Sirah as a heritage variety worth knowing and celebrating, by the California wine industry. This work is accomplished through the support of Petite Sirah producers, consumer fans, and the continuing sponsorships of interested parties. Petite Sirah offers educational services, through social media awareness and planned events, which educate the world-at-large about Petite Sirah. For more information, visit www.psiloveyou.org