Thanks in part to Farm Credit support, one tick-borne disease is now in check, with promising research moving forward for a vaccine against another serious disease
The California Cattlemen's Association Livestock Memorial Research Fund has accomplished much in its 40 years of service to the ranching community. But perhaps its most significant accomplishment was helping fund the creation of a vaccine against a tick-borne disease that had wreaked havoc to the state's cattle industry for decades.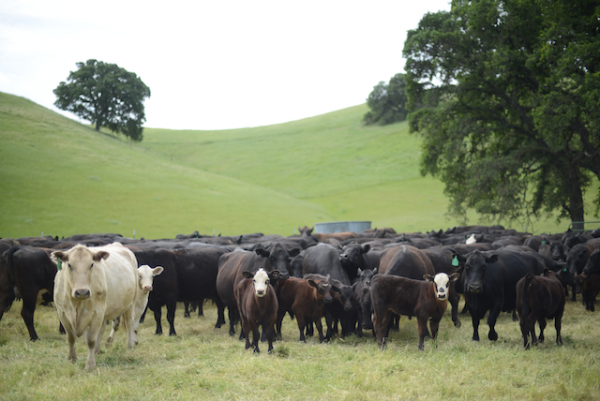 The Fund's leaders aren't resting on their laurels, however, and are now helping pay for a promising new research effort to find a vaccine against another serious disease affecting cattle.
For decades, a bite from a tick common to the foothill regions of California, Oregon and Nevada had caused tens of thousands of cows every year to abort their calves. In some cases, up to 100% of a year's calf crop in susceptible herds were lost, and ranchers reported losses of more than $10 million a year.
Fund committee member Tom Talbot, a rancher and veterinarian from Bishop, recalled the disease – epizootic bovine abortion, also known as foothill abortion disease – nearly ruined his father's cattle business in the 1960s. That crisis helped prompt him to go to veterinarian school, where he worked on the problem.
"I was a student at vet school in 1972 and my summer job was capturing different kinds of insects, trying to find out which one was causing the problem," Talbot recalled.
Research Fund Chairman Dean Hunt, a rancher from Arcata, said the organization was formed in the 1980s to accept donations to benefit ranching in the name of a loved one. After building up the fund, the group's leaders decided to support livestock research.
"We discovered there was a UC Davis researcher who wanted to work on the tick problem and develop a vaccine," Hunt said. "Over the years, they developed the vaccine and it's on the market." Over the years, the fund contributed $278,500 toward development of the vaccine.
Dr. Jeffrey Stott, a professor at UC Davis, along with researchers at the University of Nevada, Reno, lead the effort to develop the vaccine, which was approved by the U.S. Department of Agriculture in late 2020 and is now being sold by Hygieia Biological Laboratories of Woodland.
Marc Busalacchi, Regional Banking Executive – Valley Region with American AgCredit, said Farm Credit has proudly supported the research since at least 2009 by donating funds that the Research Fund uses to buy a stock trailer that is auctioned off at the annual conference of ranchers from California and Nevada.
"Each year, Farm Credit gives generously to many nonprofits that help California's agricultural community," Busalacchi said. "We were thrilled when the researchers made the breakthrough that brought this vaccine to market and were proud to have played a part."
American AgCredit, CoBank and Farm Credit West provide funding for the program. The organizations are part of the nationwide Farm Credit System – the largest provider of credit to U.S. agriculture.
According to a UC Davis factsheet, the pajaroello tick lives in decomposing plant litter and soil near animal beds and is attracted to the carbon dioxide that cattle and wildlife give off. A bacteria carried by the tick leads four or five months later to a late-term abortion or the birth of sickly calves but has little or no effect on the cow itself.
A decade of vaccine trials were conducted to establish the safety and efficacy of the product. Talbot said the big breakthrough came with advancements in DNA technology, which allowed researchers to identify how to fight the unique bacteria.
"There were a number of times along the way where we thought we were done, that we'd never solve the problem. But it's been extremely successful. Ranchers who had a high degree of abortion rates have seen that cut down to almost nothing," Talbot said.
More recently, the fund has been supporting research to find a vaccine against bovine anaplasmosis, another tick-borne disease. The pathogen invades red blood cells, which are then destroyed by the animal's immune system. That leads to anemia and, often, death. Anaplasmosis causes billions of dollars in losses worldwide and is all too common in California.
While there are vaccines available, none have been approved by the U.S. Department of Agriculture. An experimental vaccine has been used in the U.S. for several years but has not been evaluated in published research studies.
This summer, researchers at Kansas State University published a peer-reviewed paper on the successful testing of the vaccine they have developed, working with researchers at other universities including UC Davis. The fund has contributed $25,000 for anaplasmosis research, which was singled out in a Kansas State press release announcing the successful study.
Researchers at St. George's University in Grenada (West Indies) collaborated on the project, which they said successfully "knocked out" a gene that was important for the pathogen's growth. Talbot said the hope is a vaccine will be on the market within a few years.
Besides large research projects, the Memorial Fund also has awarded over $150,000 in graduate-level scholarships for students in fields that would benefit cattle production – an amount that has accelerated.
"During the past three years because of the support Farm Credit has given us, we have donated $30,000 a year to scholarships," Hunt said. "If there are three kids really worthy of big scholarships, we do that. They have to be grad students, working to become a vet or an attorney working with ag-related groups – something that benefits the ag community."
Mark Littlefield, President and CEO of Farm Credit West, said Farm Credit strongly supports scholarship programs each year and these scholarships are particularly important.
"Building the knowledge base of farmers and ranchers is vitally important, but it's also crucial that we develop the next generation of skilled professionals who will provide services that the ag community needs to flourish," Littlefield said.
###
About Farm Credit: 
American AgCredit, CoBank and Farm Credit West are cooperatively owned lending institutions providing agriculture and rural communities with a dependable source of credit. For more than 100 years, the Farm Credit System has specialized in financing farmers, ranchers, farmer-owned cooperatives, rural utilities and agribusinesses. Farm Credit offers a broad range of loan products and financial services, including long-term real estate loans, operating lines of credit, equipment and facility loans, cash management and appraisal and leasing services…everything a "growing" business needs. For more information, visit www.farmcreditalliance.com
About the Livestock Memorial Research Fund:
 The Livestock Memorial Research Fund is a 501(c)3 organization that funds scientific and educational projects and scholarships for students in fields related to California's livestock industry. LMRF monies are used solely for scientific, charitable or educational purposes and are administered by a board consisting of California Cattlemen's Association (CCA) members. Other uses of LMRF funds include studies by University of California researchers which identify grazing management strategies that improve riparian resource conditions. Other studies funded in part by LMRF contributions have researched the effects of livestock grazing upon endangered species and sought methods to control livestock disease.