Farm Credit grant helps Center for Land-Based Learning launch new program to complement its existing Beginning Farmer Training course
Since 2013, the Center for Land-Based Learning in Woodland has offered Beginning Farmer Training through its California Farm Academy. The intensive seven-month program combines lectures by farmers and agricultural professionals, hands-on field experience, and farm visits to expose students to topics critical for a future in farming.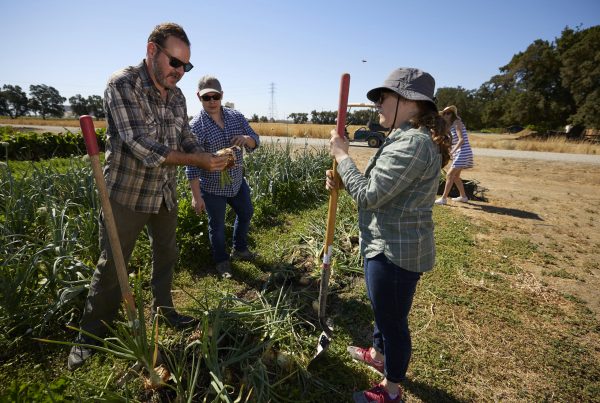 The program went virtual in 2020 due to COVID-19 restrictions and this year it was canceled. In its place is a new Explorer Course, which ran for just six weeks when launched this spring. But while the pandemic helped jump-start the new program, it's not just a temporary replacement, explained Dr. Sri Sethuratnam, the Farm Academy director.
"We've been considering running an Explorer program for five years," he said. "The main reason is that every year, a large percentage of the participants aren't ready for a seven-month program. You really need a fairly narrowed down idea of what kind of farming you want to do before you begin.
"This program is for people who haven't made the commitment that the (seven-month participants) have. They don't really know what steps they'll have to take so it helps to organize them and move forward toward their farm dream. Because of COVID, we had to take a break from the regular program, so we thought, why not run the Explorer course and see how it works."
Supporting the next generation of farmers is a top priority, which is why Farm Credit has sponsored the Farm Academy since 2018, said Curt Hudnutt, President and CEO of American AgCredit.
"The USDA reports that the average age of an American farmer today is nearly 60, so programs like the Farm Academy that educate and encourage people with an interest in farming are crucial," Hudnutt said. "Farm Credit has provided $40,000 to support the Farm Academy and believes this new program can introduce even more prospective farmers to agriculture."
Additionally, Farm Credit's support of the Center for Land-Based Learning extends beyond just the Farm Academy, noted Mark Littlefield, President and CEO of Farm Credit West.
"Farm Credit is now in the third year of a five-year commitment that will give the Center $100,000 to fund its new state-of-the-art workforce development campus and statewide hub," Littlefield said. "The Center is the largest organization of its kind in California and operates programs in 27 counties. We look forward to continuing our partnership into the future."
Supporting Farm Credit Institutions American Ag Credit, CoBank, Colusa Glenn Farm Credit, Farm Credit West, Fresno Madera Farm Credit, Golden State Farm Credit, and Yosemite Farm Credit are part of the nationwide Farm Credit System, the largest provider of credit to American agriculture.
Sethuratnam said Farm Credit's support has been instrumental in helping achieve the Center's goals.
"The sustained financial support we have received from Farm Credit has given us the capacity to build effective pathways into farming for people who are not connected to the farm sector. This support is valuable as these new farmers are the future of our farming and food systems," he said.
Nine people participated in the spring Explorer session, participating in classroom lectures to get the basics of becoming an owner-operator, including marketing, how to develop a business plan, basic production information, soil science and irrigation practices. Participants also take tours of small farms and ask farmers questions to get real-life answers. Another seven enrolled in the fall Explorer course, which concluded in late September.
Jon Kupkowski, the beginning farmer training program manager, said the feedback from the spring session was generally positive.
"They got clarity and direction and developed a stronger understanding of what they want and how to get there. One thing we'll look at going forward is how to provide more hands-on sessions. For example, they spent an hour pulling weeds and harvesting onions. We saw that as really positive, so we want to incorporate more time in the fields for the next course," he said.
Sethuratnam said they are planning some changes when the Beginning Farmer course returns.
"For that program, we had people who were just interested in one kind of farming, such as livestock or horticulture. In the past, though, everyone worked as a group on a one-acre plot. Going forward, they will all still do generic coursework to start but for the latter part of the course we want to have tracks, like livestock, viticulture and seed production – we're in the middle of a region that has produced seed for 80 years. And we want to add information about the use of technology, like sensors and drones."
And of course, the program is geared to the Center's mission – to inspire, educate and cultivate future generations of farmers, agricultural leaders and natural resource stewards.
"There are people who want to get into farming, and now I'm seeing first-generation immigrants wanting to do so. If we can give them the skills and knowledge they need, they can succeed," Sethuratnam said.
###
About Farm Credit:
American AgCredit, CoBank, Colusa Glenn Farm Credit, Farm Credit West, Fresno Madera Farm Credit, Golden State Farm Credit and Yosemite Farm Credit are cooperatively owned lending institutions providing agriculture and rural communities with a dependable source of credit. For more than 100 years, the Farm Credit System has specialized in financing farmers, ranchers, farmer-owned cooperatives, rural utilities and agribusinesses. Farm Credit offers a broad range of loan products and financial services, including long-term real estate loans, operating lines of credit, equipment and facility loans, cash management and appraisal and leasing services…everything a "growing" business needs. For more information, visit www.farmcreditalliance.com
About the Center for Land-Based Learning:
The Center for Land-Based Learning's mission is to inspire, educate, and cultivate future generations of farmers, agricultural leaders and natural resource stewards. To do this, we motivate people of all ages to promote a healthy interplay between agriculture, nature, and society through their actions and as leaders in their communities. It began in 1993 as the FARMS Leadership Program, out of concern for the growing disconnect between people, their food supply, and the land. In 2001, programs expanded, and CLBL was created as a 501(c)(3). Today, CLBL operates five distinct programs that advance our mission. One is the California Farm Academy, including the Explorer program, a beginning farmer training program and a farm business incubator program. For more information, visit www.landbasedlearning.org