As many as 300,000 people a year will learn how California farmers lead the world in water efficiency once the state-of-the-art Powerhouse Science Center opens in Sacramento in 2020.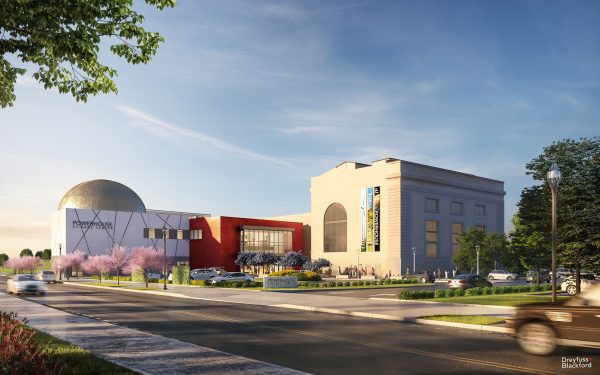 That's because the section of the museum devoted to water will have three separate interactive exhibits that will show how much water it takes to grow crops, how California farmers lead the world in conservation, and how the state's complicated water storage and delivery system works, said Mike Wade, the executive director of the California Farm Water Coalition.
The Coalition is the title sponsor for the exhibits and has drawn on several farming organizations, including Farm Credit, to help build and maintain the exhibits.
"We saw the project as an opportunity to fulfill our core mission of educating the public on where their food comes from and the importance of our water supply," Wade said. "It's an opportunity to participate in a world-class educational center."
Now under construction along the Sacramento River just north of downtown, the facility will expand an abandoned but historic century-old powerplant into a 50,000-square-foot regional hub for the promotion of STEM (science, technology, engineering and math) education in the region.
The $50 million facility will feature more than 22,000 square feet of exhibit space, including a full-dome digital planetarium – four times the exhibit space of the current center, formerly known as the Discovery Museum.
Three members of the Farm Credit System – American AgCredit, CoBank and Farm Credit West – have pledged $75,000 over five years to help build and maintain the facility, said Leili Ghazi, CoBank's western region president.
"California farmers feed the world and are good stewards of their land and water, and these exhibits will give students and adults alike the opportunity to learn how important agriculture is and how our growers are leading the way in developing new and innovative ways to farm," Ghazi said.
The interactive exhibits will focus on three key areas, Wade said:
The amount of water needed to grow our food and how much of the water used for agriculture is reused to help other consumer needs and the environment.
How the water storage and distribution system works, including the need to store water in the winter for use in dry summer months and how it is transported to farms and cities.
And how California farmers are constantly innovating in irrigation and crop development to use less water per pound than other countries with the same general climate and crops.
Wade said Farm Credit's support has been extremely valuable in making the exhibits a reality.
"None of this would be possible without Farm Credit and the other donors giving so generously," he said. "Educating the public is a shared responsibility of the entire agricultural industry. Our Farm Credit partners take that seriously and are leading by example. We are grateful for their support," he said.
###
About Farm Credit: American AgCredit, CoBank and Farm Credit West are cooperatively owned lending institutions providing agriculture and rural communities with a dependable source of credit. We specialize in financing farmers, ranchers, farmer-owned cooperatives, rural utilities and agribusinesses. Farm Credit offers a broad range of loan products and financial services, including long-term real estate loans, operating lines of credit, equipment and facility loans, cash management and appraisal and leasing services…everything a "growing" business needs. For more information, visit www.farmcreditalliance.com
About the California Farm Water Coalition: CFWC is a non-profit, educational organization formed in 1989 to provide fact-based information on farm water issues to the public. The organization works to help consumers, elected representatives, government officials and the media make the connection between farm water and our food supply.