Funded in part by Farm Credit, the Foundation for Agriculture in the Classroom educated 16,000 students about "the 99% club" this year
California's farmers grow more than 400 commodities each year, making the state the nation's breadbasket. And for 36 years, the nonprofit California Foundation for Agriculture in the Classroom has been educating students around the state that the nutritious and tasty fruits and vegetables they eat don't just come from the supermarket.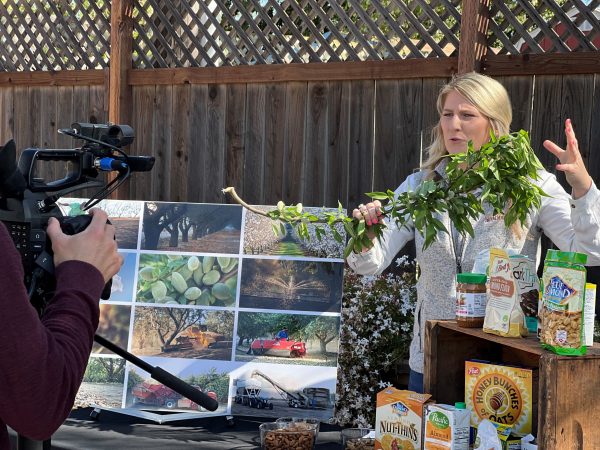 During the past school year, Executive Director Judy Culbertson said the focus of the educational program was highlighting the "99% club" – 16 commodities grown almost exclusively in the Golden State.
"On April 1 we held our second annual California Farm Day virtually, with presenters talking about a different one of the commodities for 10 minutes, providing information, activities, recipes and 'did you know' segments," Culbertson said.
"Nearly 500 teachers registered, and we sent out a box of goodies for each class, with snacks, resources for students and teachers and the What's Growin' On? newspaper. We put the video package on YouTube, and 16,000 kids registered!" She added that 45 counties had at least one school participating this year.
Mark Littlefield, President and CEO of Farm Credit West, said Farm Credit organizations have given the foundation over $250,000 since 2002 to help educate students in urban and rural areas alike about the importance of agriculture to California.
"California's climate makes it ideal for growing a large variety of crops, many of which can't be grown anywhere else in the U.S.," Littlefield said. "It's important to educate Californians about how much of their food is grown here and why agriculture is so vital to the state's economy. Farm Credit is proud to be a longtime sponsor of the California Foundation for Agriculture in the Classroom, which has done a great job over the years providing that education."
Farm Credit West, American AgCredit, CoBank, Colusa-Glenn Farm Credit, Fresno Madera Farm Credit and Yosemite Farm Credit all provide funding. The organizations are part of the nationwide Farm Credit System – the largest provider of credit to U.S. agriculture.
Besides talking about the 99% club commodities during the two-hour virtual event, there was also a half-page devoted to each commodity in the newspaper – which celebrated its 20th anniversary this school year – that provided information about their history, nutrition, and little-known facts.
The commodities are almonds, artichokes, celery, clover, figs, garlic, honeydew melons, nectarines, olives, peaches, pistachios, raisins, medium- and short-grain rice and walnuts. Among the fun facts included in the publication are:
Celery has many health benefits and that bunches of celery were presented to ancient Greek athletes, much as a bouquet of roses would be today.
Almonds, roses, and peaches are distant cousins, members of the rose family.
Garlic was used as a first aid compound in World War II to kill bacteria and germs on the battlefield.
Among the Farm Day video presenters was Ag in the Classroom Foundation President Jamie Johansson, an Oroville olive grower who also is president of the California Farm Bureau.
"It's a fruit, right, like a cherry or a peach, but it's one of the few fruits you can't pick off the tree and just eat," he told the students. "The first time I tasted an olive off the tree it was so bitter I wondered what I was doing and how I failed." He later explained that you have to cure the olives by soaking them in lye or brine to remove the bitter compounds. You can view the entire Farm Day presentation here.
Culbertson said the response from teachers and students was overwhelmingly positive.
"One teacher wrote back to say, 'It really gave our students a better understanding of the impact that California's agriculture has on our state, country, and the world.' Another wrote, 'They learned so much about their home state and came back from the weekend telling me what they taught their parents about California agriculture. Thank you so much,'" Culbertson said.
This year, Ag in the Classroom began working with the Fresno Unified School District to promote the commodities grown in the heart of California's farm belt. The district received a $500,000 grant from the U.S. Department of Agriculture and the California Department of Food and Agriculture to provide locally grown fruits and vegetables to the school lunch program and to provide education about the importance of agriculture.
"We are providing the education side of the nutrition grant," Culbertson said. "We produced classroom materials including a monthly Fresno Farms to You newsletter, along with posters for each school's cafeteria. Both feature information about what's in season in the Fresno area that month.
"There are 70,000 kids in Fresno Unified, and everybody goes through the cafeteria and learns about the commodities. We're going through evaluation now, but it's a two-year grant, and we're planning to do it again next year."
The poster for October, for example, featured table grapes, informing students that eating them benefits the heart, brain, and skin. And each month's poster includes a joke about that month's commodity, which she said she hopes helps capture their attention. For October, it was, "What happened when the grape was promoted? It got a raisin pay."
Keith Hesterberg, president and CEO of Fresno Madera Farm Credit, said he was especially pleased that California Foundation for Agriculture in the Classroom was able to help promote agriculture in his community.
"The Fresno area has grown tremendously in recent years, and many people moving here from other parts of the state don't have the same understanding about the importance of agriculture as people who grew up here. This program is a great way of giving students information as well as a taste of how delicious locally grown fruits and vegetables are," he said.
###
About Farm Credit:
American AgCredit, CoBank, Colusa Glenn Farm Credit, Farm Credit West, Fresno Madera Farm Credit, and Yosemite Farm Credit are cooperatively owned lending institutions providing agriculture and rural communities with a dependable source of credit. For more than 100 years, the Farm Credit System has specialized in financing farmers, ranchers, farmer-owned cooperatives, rural utilities and agribusinesses. Farm Credit offers a broad range of loan products and financial services, including long-term real estate loans, operating lines of credit, equipment and facility loans, cash management and appraisal and leasing services…everything a "growing" business needs. For more information, visit www.farmcreditalliance.com
About the Foundation for Agriculture in the Classroom:
The California Foundation for Agriculture in the Classroom is a nonprofit organization dedicated to educating youth throughout California about the importance of agriculture in their daily lives. We do this through:
Developing materials that are accurate, teacher-tested and scientifically sound to enhance the educational experience of K-12 students.
Providing programs, inspiration and training opportunities for educators.
Partnering with like-minded organizations to create awareness about the significance of agriculture in our everyday lives.
Recognizing teachers and students for their achievements in agricultural literacy.
Supporting the pursuit of agricultural careers and continuing education.
Our mission is to increase awareness and understanding of agriculture among California's educators and students. Our vision is an appreciation of agriculture by all. Learn more at https://learnaboutag.org.