Since 1975, California Women for Agriculture (CWA) has educated and advocated about the importance of farming. 
Farm Credit continues to support their efforts.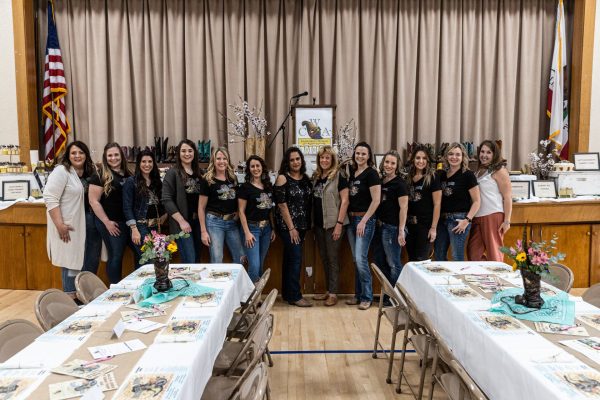 In 1975, a group of women concerned about challenges to California agriculture got together to "speak on behalf of the busy farmer" and educate consumers and legislators about farming issues. Today, the CWA has become one of the largest all-volunteer advocacy groups in the nation, consisting of a diverse group of bankers, lawyers, accountants, marketing professionals and consumers – along with farmers and ranchers.
Rose Tryon, a fifth-generation rancher beginning her second year as CWA president, said it is critically important that the ag industry continues to mount education and advocacy efforts, and last year added a digital campaign to its usual lobbying efforts.
"Last year we ran a digital campaign titled Faces of Ag, where our communications team highlighted members who work in different facets of the industry," she said. "We wanted to point out (to lawmakers) how important agriculture is to the state's economy, how many jobs are involved and how many women and minorities are involved in ag and make a connection about how their decisions affect women and minority populations and ag in general. Our membership is as diverse as the crops we grow."
Because of the importance of educating policymakers about the many issues affecting farming and ranching in California, Farm Credit associations serving California have sponsored CWA for more than 20 years. Supporting Farm Credit institutions are American AgCredit, CoBank, Colusa-Glenn Farm Credit, Farm Credit West and Fresno Madera Farm Credit – all of which are part of the nationwide Farm Credit System, the largest provider of credit to American agriculture.
"About half of the million dollars Farm Credit donates to nonprofits each year goes to preserving agriculture and raising awareness of the importance of agriculture in California," said Timothy Elrod, president and CEO of Colusa-Glenn Farm Credit. "CWA's 1,300 members do a great job educating decision-makers and advocating for policies that keep our state's agriculture industry competitive and viable. We believe our contribution of $10,000 a year to support this great organization is an investment in the future of farming."
Tryon said Farm Credit's support over the years has been essential in helping the organization grow.
"We can't continue to advocate without our sponsors, and we are so appreciative of Farm Credit's support. They've been an absolutely wonderful sponsor, and we couldn't continue without them," she said.
The organization consists of 21 local chapters that focus on promoting agriculture locally and providing scholarships to students majoring in farming-related majors. Tryon said her local chapter in the Chico area, for example, raises money to loan to students who can't afford to buy an animal for FFA or 4H competitions. A student then raises the animal, shows it, and repays the loan when she sells it after the competition.
That kind of commitment to the future of agriculture is another reason why Farm Credit continues to sponsor CWA, noted Keith Hesterberg, president and CEO of Fresno Madera Farm Credit.
"In our area, CWA partners with Ag One to put on the Ag Boosters BBQ each year, which raises funds to support ag students and programs at Fresno State," Hesterberg said. "Farm Credit is proud to directly sponsor that program, which helps ensure we will have well-educated ag leaders in the future."
###
About Farm Credit: 
American AgCredit, CoBank, Colusa-Glenn Farm Credit, Farm Credit West and Fresno Madera Farm Credit are cooperatively owned lending institutions providing agriculture and rural communities with a dependable source of credit. For more than 100 years, the Farm Credit System has specialized in financing farmers, ranchers, farmer-owned cooperatives, rural utilities and agribusinesses. Farm Credit offers a broad range of loan products and financial services, including long-term real estate loans, operating lines of credit, equipment and facility loans, cash management and appraisal and leasing services…everything a "growing" business needs. For more information, visit www.farmcreditalliance.com.
About California Women for Agriculture:
The CWA's mission is to promote and develop the interest of California women involved or interested in agriculture and to promote a strong agriculture industry in California. CWA's efforts are guided by five principal objectives: to speak on behalf of agriculture in an intelligent, informative, direct and truthful manner; to keep CWA members informed on legislative activities pertaining to agriculture; to join forces when the need arises to deal with agricultural issues and challenges; to improve the public image of farmers and to develop a rapport with consumers, educators, and governmental and business leaders in communities throughout the state.